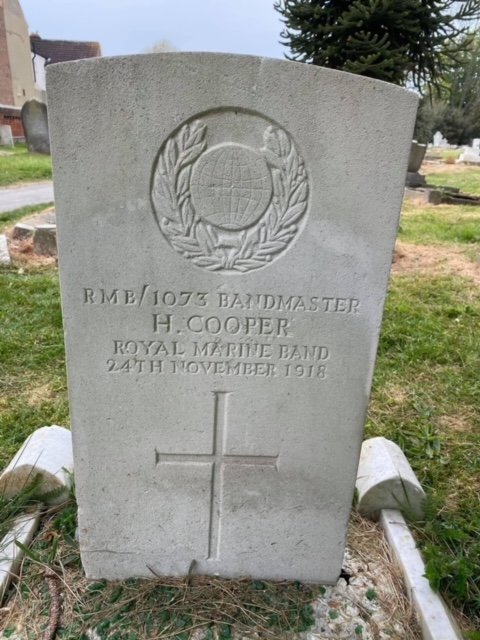 Henry Cooper was born on 24th August 1881 in Islington North London. His father was called Matthias.. no record of his mother was found.
The short, brown haired blue eyed boy spent a six year period serving with the Royal Navy, before enlisting as an adult Musician on 5th February 1906 in Gibraltar. He was assigned to the Plymouth Division and went straight away to serve onboard HMS Victorious. It wasn't until his return to home soil that he undertook a six-month period of training at the Royal Naval School of Music (Eastney), where he studied the baritone and cello.
Musician Cooper was promoted to Band Corporal in May 1907, before a posting to the band onboard HMS New Zealand in July.
Henry met a young lady named Laura Louisa Williams while he was Devonport.. Shortly afterwards Henry married Laura on 26th August 1908 in Stoke Damerel, Plymouth. Laura was actually born in Dartmouth in 1884 and baptised in St Saviours Church. Ironically she was a daughter of William Williams.. a former Royal Navy Cadet Servant, who presumably served onboard the Royal Naval Officer twin training ships HMS's Britannia and Hindostan which were berthed in the River Dart. William later changed over to become a Royal Naval Bandsman (pre 1901), they lived in Foss Street in Dartmouth, before moving to Mount Street, then onto Fore Street in Devonport.
BCpl Cooper earned promotion on 1st January 1909 to Bandmaster 2nd Class, before taking charge of the band onboard HMS Formidable for two years beginning in April 1909. During this period, Henry and Laura became parents to son Henry (1909) and daughter Dorothy (1910).
On 6th June 1911, Henry was tasked with leading the band on the battleship HMS Dreadnought. A couple of weeks later, his ship was one of 165 vessels anchored at Spithead for HM King George V's Coronation Review, in addition there were 18 foreign warships. The King and Queen arrived at the great naval dockyard of Portsmouth during the morning of Saturday 24th June and embarked HM Yacht Victoria & Albert. In August 1912, during his time onboard, he was awarded advancement to Bandmaster 1st Class.
December 1912 saw Henry posted to HMS Albemarle for sixth-months. Following a refit, Albemarle was recommissioned at Portsmouth to serve in the 4th Battle Squadron.
On 11th November 1913, Henry took charge of the band onboard the cruiser HMS Shannon. He would go on to spend nearly five years as Bandmaster on the ship during the First World War, including seeing action at the Battle of Jutland on 31st May 1916. HMS Shannon was on the unengaged side of the fleet and did not fire her guns at all during the battle. The ship spent several days after the battle searching for survivors from her sister ship HMS Defence and other sunken ships. As a result of his participation in the war, Bandmaster 1st Class H. Cooper became the recipient of: 1914/15 Star, British War and Victory Medals... collectively known as the Pip, Squeak and Wilfred.
Laura lived with their children at her parents home in Devonport while Henry was away during the early part of the war. As the war progressed and the children grew older, Henry and Laura made their home at 49 Middlesex Road, Milton in Portsmouth.
Henry Cooper sadly passed away whilst serving at the Royal Naval School of Music, just two weeks after the armistice on 24th November 1918, due to an unknown illness aged 37. Henry's final resting place can be found at Highland Road Cemetery in Portsmouth. Grave ref: H. 8. 2. The cemetery, near the barracks was opened in 1854 and contains war graves of both world wars. The First World War burials are spread throughout the cemetery.
Laura and their grown up children were still resident in Middlesex Road in 1939. Their son Henry lived until the ripe old age of 91, passing away in Portsmouth in 2000.
RIP Henry
Photo courtesy of Roy Hallin