Having just read Ian Epps' epistle I thought that I should set-to and fill in the blanks. The attached photos are as follows. The large one is of the newly commissioned band for the East Indies, recently passed for duty at the Depot, loading our gear onto the train at Deal railway station. I am the one on the left carrying my suit case while I supervise John Bradshaw pushing the trolley with all our heavy gear on it. Ron McCallum has his back to the camera but I can't distinguish the others, however they are listed elsewhere on your site, under Gambia's guns. We departed Deal Station on 3rd October, 1955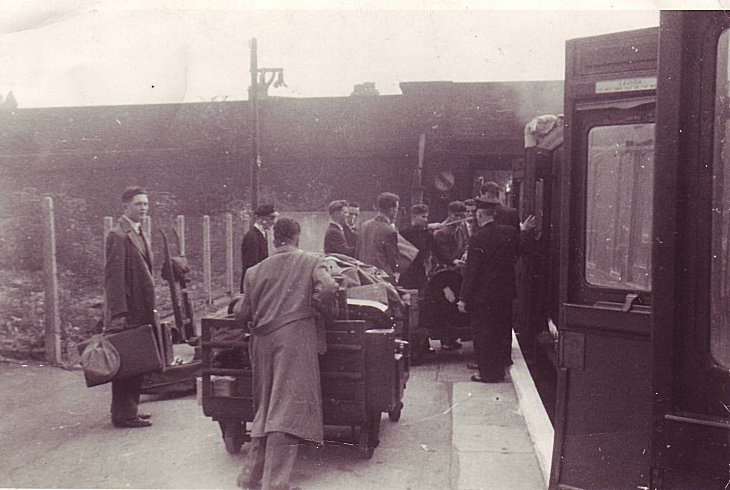 Now our journey took us firstly to Blackbush Airport to board our aircraft. Not as in Ian's case a York but a Handly Page Hermes, a civilian version of the RAF's Hastings. Now on arrival at Blackbush and just seeing said aircraft waiting for us to board was enough for Jock Mckay to leave his lunch on the floor. Anyway we were on our way. First stop Malta for breakfast and refuelling. First time I had eaten cornflakes complete with protein by way of weavils by the dozen.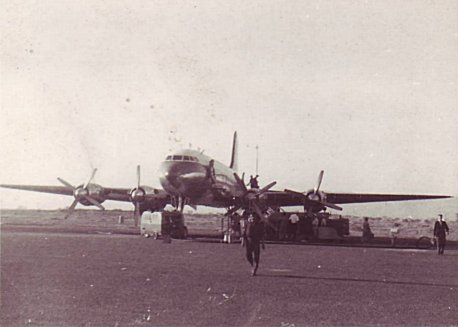 Next stop, Nicosia, Cyprus where we were put up in a dodgey hotel for the night in the street then known as Murder Mile. Small photo is of our aircraft on the tarmack at Nicosia Airport. The long haul to Karachi, Pakistan culminated in another overnight stay. This time the passengers and crew were sent to two different hotels, the names of which are long lost in the years that have passed. HOWEVER, we, in the person of Pete Mcroy and myself decided to visit our friends who were now in the other hotel than the one that we booked into. So, boarding a horse drawn carriage we asked to be taken to the other hotel and a journey of more that an hour then commenced. Fare for ride 2 pound sterling. Okay, worth it we thought.

Now, after enjoying ourselves it was time to return to our place of rest and a carriage was ordered and boarded, and proceeded to take us to the other side of the road and stop outside our hotel. Total distance, oh I'd say fifty yards.

Breakfast in the morning was in the company of the New Zealand Cricket team on their way to the UK. We ended up staying a second night for some reason long lost to memory but some of us went to a cinema and saw the film CARMEN JONES an all black cast with the storyline of Bizet's Carmen.

We finally arrived after not too many difficulties in Columbo where we boarded our buses for the ten hour journey to Trincomalee and our home for the next few months, HMS Gambia, before transferring to HMS Superb. So, it must have been our aircraft that took Ian and his band back to the UK.

Our journey back after our tour of duty had expired was by way of HMTS ASTURIAS with the Kings Own Yorkshire Light Infantry. Round the Cape after a brief stop in Mombasa because somebody had blocked the Suez canal.

Richard, I do hope that you can in your very clever fashion, manage to perhaps attach this to Ian's.
As an aside to all this I don't think that Ian would remember that we served together in the late 50s in the band of CINC NORE COMMAND at Chatham with Tommy Merrett as D of M.