Hi Rich
Yet another picture for you to add to your web pages.
Shown are Dave Ingram (Oboe) Barrie Baker Solo Clt, myself also Solo Clt, Roger Elcock Repriano Clt. Behind us are Taff Clark, solo cornet and the part head of Glyn Vaughan Thomas showing behind Roger Elcock. This was another picture taken at the opening of the HSBC Shanghai Bank in Johore Bahru.

Another one from the back of the drawer, a little faded with age, but I am sure that it may be an item of interest to those who never bothered to take an EVT Course!

Yours aye,

Bill.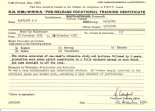 Good picture of the Aussie Reunion and a good write up too. Well done.