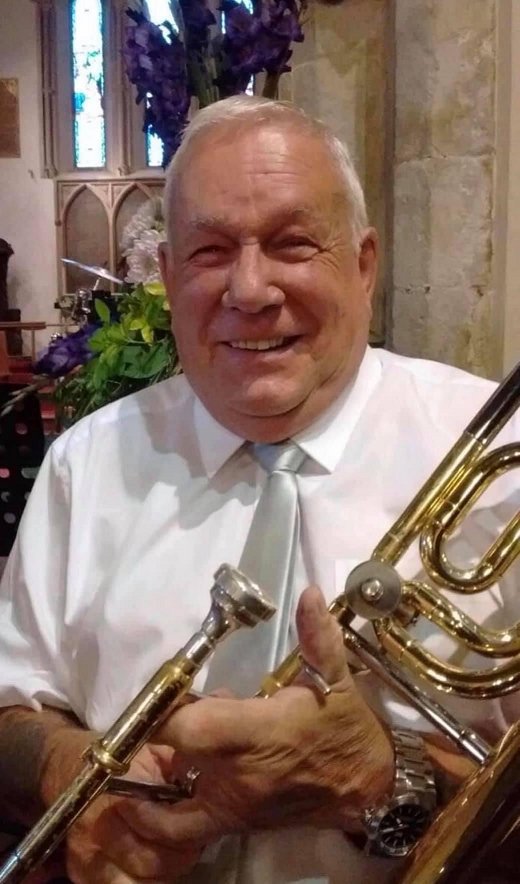 Geoffrey Gouk was born in Reading Berkshire on Wednesday 21st February 1945 at the tail end of the Second World War during the battle of Iwo Jima. Young Geoffrey joined the Royal Marines Band Service in 1960, with another ten boys as a trombone player and a member of 2/60 New Intake Squad. He was assigned as a Junior Musician to Neptune House under guidance of House Captain Frank Kent.
Following the completion of his training in April 1963, Musician Gouk remained at Deal with the Royal Marines School of Music Staff Band for a short time, until he was posted to the band onboard the aircraft carrier HMS Eagle from 1964 until 1966. Soon after his return Geoff married Margaret Shorter who he met while he was under training at Deal.
The Royal Marines Band Britannia Royal Naval College Dartmouth under the leadership of Bandmaster James Robertson was the next drafting for Geoff, where he and his new wife were residents at 15 Rock Park.. a ground floor flat on the college's married quarter patch. Still in his early twenties.. he enjoyed making home made wine and spent many happy days playing euchre in the local hostelry 'The Ship in Dock'... later proclaiming it to be one of his best drafts.
Following his two year stint at Dartmouth, Geoff moved in 1968 to the Royal Marines Band Commander in Chief Far East Fleet, based at HMS Terror in Singapore. Margaret accompanied Geoff on his new posting where they were once again billeted in the married quarters... they treated it as one long honeymoon... His two-year adventure with the 3rd Commando Brigade came to an end in 1970 when he returned to the School of Music, before his discharge from the Royal Marines Band Service in 1971.
Geoff and Margaret's family life blossomed when they became parents to Mandy Michelle in 1972 and Jason Roy in 1974.

It was out of one uniform and into another as Geoff opted for a career as a Prison Officer.. He was firstly an officer at Maidstone Prison before moving to Cookham Wood women's prison in Rochester, he went on to complete thirty-years with the prison service.
Geoff was married three times altogether.. in November 1996 he tied the knot with Gail Horsington in Chatham, before marrying Sue Read in May 2005. Geoff who lived in Rochester with Sue was an avid cricket lover, he also continued to enjoy his music, performing with various bands.. he played with the Royal Engineers Association, The Kent Police Band, East Peckham Silver Band and a novelty group called 'The Three Tromgnomes'. He turned out on many occasions for the annual All Stars Band concert down the road at the Winter Gardens in Margate and also travelled in 2015 to London to take part in the band that accompanied the demonstration aimed at the releasing of Marine 'A'.. the campaign to free convicted Royal Marine Sgt Alexander Blackman.
Geoff was diagnosed with liver cancer and sadly passed away shortly afterward in a hospice on 28th March 2020 aged 75. It was at the time of the COVID 19 pandemic and as a consequence, none of his family could be with him when he died.

Geoff's funeral service was held on Friday 24th April, unfortunately the pandemic dictated that his friends couldn't attend, however the crematorium was able to live-stream the service.
RIP Geoff
Paul Foley