Hello again Richard,

I am sending 4 photos, each as an attachment in separate e-mails. I have tried sending the 4 as one attachment but the system could not cope.
Here is the first one, with some text.
I hope these four photos taken a long time ago, may jog some memories out there and perhaps lead to some correspondence about them.
Cycle Club 1951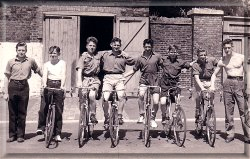 C
lick on image to enlarge
Band boys in East Barracks, Deal.
I can't remember all the names. However, 2nd from left Gerry Taylour, 5th from left Allan Brown, 7th from left Jeffery (Nicky) Nicholson. These three served in the Eastney band late 1950's/early 1960's together. Nicky, is sadly no longer with us.
Orchestra -1954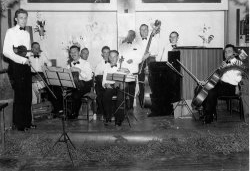 C
lick on image to enlarge


This photo from June 1954, of the HMS Terror band in their orchestral mode, playing at an olde tyme dance in the Naval Base club, Singapore. Left to right. Keith Turton (leader). Drummer (name forgotten). Wally Shillito (violin). Another violin (name forgotten). ? Powers (clarinet, first name forgotten). Bill Williamson (violin). The MC (dockyard staff). Smudge Smith (string bass). Gerry Taylour (piano). Wally Walton (cello). Can anybody fill in the missing names. I know that Keith Turton and Bill Williamson have sadly passed away.

Sextet - 1953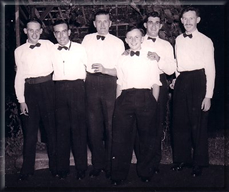 C
lick on image to enlarge
This one is from 1953. Once again, at a gig somewhere in Singapore.

Left to right. Bill Williamson (sax). Jock Middleton (sax). Dave Mills (sax and a mean clarinet). Gerry Taylour (piano). Don Swann (drums). Wally Shillito (trumpet).
Gerry Taylour

Thanks Richard,

I think my contribution looks great on the Notice Board. Shows how long ago it was, being black and white photos.
Yes I think you could be right. the name Dave (Power) rings a bell, also Power without the 's'. I don't know when you were in Junior Wing, [Ed. 1965-1969] but the Dave I knew would have been say 21 years old in 1951. [Ed. Well that might be the same Dave Power then]
The Terror Sound!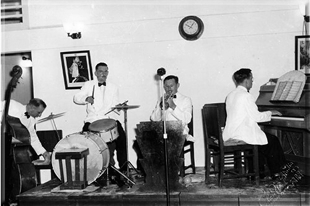 C
lick on image to enlarge
This one is probably from 1954, once again out earning the good old Singapore dollar. Left to right. Smudge Smith. Drummer (who knows his name?) Wally Shillito. Gerry Taylour. Without a doubt, the posting to Singapore in those days was considered the plum job for most people (I certainly didn't want to return to Deal). There were only nine of us in the band, and operated as orchestra/dance band. It was goodbye to the marching up an down bit for a while. We were part of the Naval 'C in C's' Far East Fleet staff, and would occasionally accompany him, on his 'showing the flag' trips around SE Asia. This meant taking passage on his 'yacht' HMS Alert. Who remembers this ship? I can still see our piano being hoisted aboard by one those enormous dockyard cranes. We also had a Band officer with us, the one I remember was Ginger Long. I can't remember him doing many jobs with us, except on the Alert. I hope will find some of this interesting.
Best wishes,
Gerry Taylour RMB X2742.