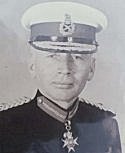 I feel sure you will want to know the sad news, from Graham Hoskins; that Lt Gen Sir Martin Garrod KCB died yesterday 18 April. As CGRM he was a very strong supporter of the Band Service; Graham tells me his support and advice were of the greatest assistance during Graham`s tenure as PDM. An early appointment in the General's career was as a Housemaster to Junior Wing when he was a young Lieutenant, so he must have got the bug at an early stage.
Details of his funeral will be signalled when known; it is likely to be in Deal where the General lived, close by the Barracks.

Editor - The thanksgiving service for Sir Martin Garrod will take place in St Mary's Church, Walmer at 2pm on Thursday 30th April.