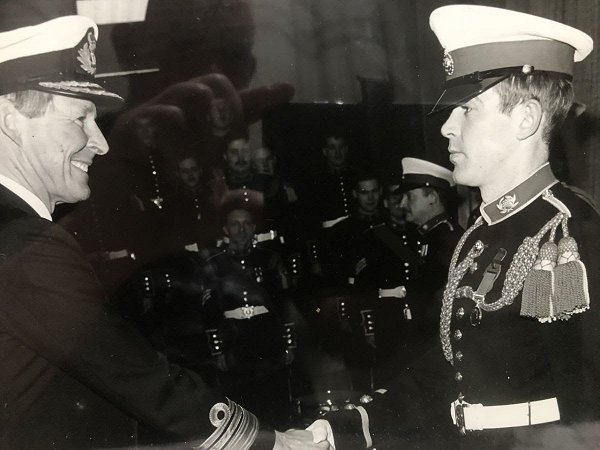 George Paul Trafford was born in Wallasey within the borough of Wirral on 25th February 1966. He was raised by parents Daphne and Paul along with his younger sister Tina and brothers Tim and David. He grew up playing the trumpet like his dad and enjoyed playing many roles in various school plays. He joined the Wallacy Sea Cadets where his ability on the trumpet came to fruition.
George joined the Royal Marines Band Service as a Junior Bugler of 2/83 New Entry Troop, on 5th September 1983. He spent many a Sunday in training fishing off the sands as part of the RM fishing club in a little boat called the Hannah Snell with fellow trooper Kev Baker.
George's first draft was in 1985 to the Royal Marines Band Flag Officer Scotland and Northern Ireland (FOSNI) based at Rosyth. While he was in Scotland.. he made a trip to the Falklands and Northern Ireland, subsequently receiving his general service medal for a succession of days service in the province.
George was awarded a draft to the Royal Marines School of Music Staff Band at Deal in 1991, shortly afterwards saw the birth of his daughter Leah in 1992. One of his highlight with Staff Band was the buglers outing to the Ascension Island in 1994, where his fishing talents really shone through. Other than fishing.. George had a great taste in rock music.
Following the options for change strategy.. George volunteered for redundancy in 1994. He took an 'Accounting for a Small Business'
course as part of his extra vocational training ( EVT) at Catterick Garrison. Following his discharge from the Royal Marines Band Service, George decided to remain in Deal as he loved living in the town.. he gained employment with P&O Ferries as a steward on the cross channel route, before a complete change and becoming a taxi driver in Deal.. a role he continued with..
George Trafford sadly passed away on Friday 14th January 2022 aged 55, as a result of a cardiac arrest. He did not show up for work and he was later found in the caravan that he rented. His funeral was held on Monday 7th February at Barham Crematorium. His love of rock music was highlighted with the playing of his favourite music by Queen and Meat Loaf. The RMA standard bearer was former PTI Cpl Paul Hardy and the ultimate tribute of Last Post & Reveille was expertly played by Bugler Ross Budden. George's wake was held at the Royal Marines Association, Deal. Donations were gratefully received by the British Heart Foundation.
RIP George