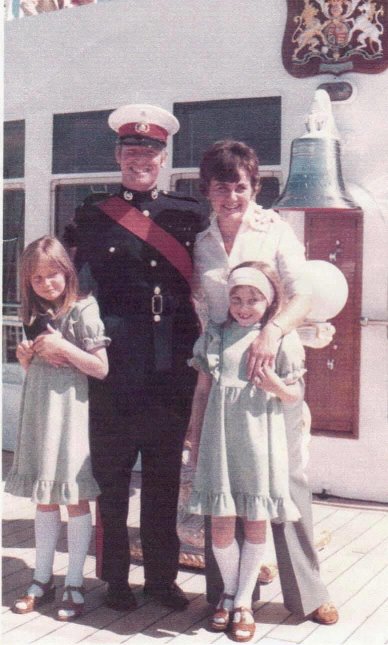 Trevor was born on Tuesday 8th August 1944 at the tail end of World War II. Portsmouth was not a safe place to be at the time and as a consequence he came into the world in a nursing home in Liphook.. a village which lies on the Hampshire/West Sussex border. Trevor was the eldest of four.. all two-years apart.. his brother Peter was born in 1946, sister Valerie 1948 and brother Barry in 1950.
As a youngster.. music was his only interest.. he was taught to play the piano by his grandmother and was a keen member of the Royal Marines Cadet Band at Eastney Barracks in Portsmouth.
Trevor had only just turned fourteen when he travelled to the Depot RM Deal where he joined up with 5/58 Squad of the Royal Marines Band Service on 2nd September 1958. Trevor joined as a Euphonium and Cello player. In 1961 he was a finalist in the Cassell Prize also becoming I/C of Rm 117 Gloucester House recalls his best pal at the time Adrian Brett. Trevor's brother Peter followed him into the Band Service in 1960. On completion of training.. Musician Foster was drafted to HMS Excellent where he was based from 1962-64, during this time he had two short spells at HMS Ariel, the Royal Naval Air Station at Lee-on-Solent. Also in the band was John Ware.. they shared transport back to Deal so they could see their girlfriends.. Trev was on the back of Johns' Lambretta... they only did it once!
Trevor then briefly returned to Deal prior to flying to Singapore where he joined the band on the aircraft carrier HMS Victorious (R38) on 8th November 1964, sailing on a nine-month trip to Japan and Malaysia. On their return home.. all the crew were awarded the (Pingat Jasa) Malaysian Medal due to the situation in the country at the time. Deep political and economic differences between the ruling parties of Singapore and Malaysia created communal tensions and resulted in racial riots in July and September 1964.
Following his sea service, Trevor departed for a four-year stay in the West Country, with a draft to the Royal Marines Band at The Royal Naval Engineering College Manadon or as it was called HMS Thunderer.
On 30th October 1965 and following a four-year courtship.. Trevor and Deal girl Sue were married at the lovely St Mary's Church in Walmer. He was then drafted across the city to Plymouth Group Band based at Stonehouse, before the band moved en masse to the Infantry Training Centre at Lympstone in February 1968.
In October 1968.. Trevor returned to his home town and to the Band of HM Royal Marines Portsmouth based at Eastney, a few months later on 19th July 1969.. Sue presented Trevor with a daughter.. Michelle. During this period with the band 'he' like many of his colleagues spent time back and forth to Deal and at the Commando Training Centre Lympstone.. partaking in the 'fun and games' of promotion courses. Trevor was elevated to Band Corporal on 13th January 1970. Sue gave birth to second daughter Louise who was born on March 9th 1971. Many happy times were had at 3 Paignton Avenue Copnor, where the family lived from 1971 until 1983.
Following success on his M1's and Senior Command Course.. Trevor was rewarded with further advancement to Band Sergeant in 1973, before he left Eastney the following year. Trevor returned to HMS Ariel, which by this time had been renamed HMS Daedalus back in 1965. He was only there for a few months prior to joining HMS Pembroke at Chatham, it was to be Trevor's home base of his next draft onboard the destroyer HMS Devonshire (D02) as BCSgt Volunteer Band Instructor between 1976-78. Trevor's final drafting was to be a return to his spiritual home at Eastney.. which by now had assumed the title Royal Marines Band CinC Naval Home Command.
On 1st September 1977 Trevor was awarded his Long Service & Good Conduct Medal, soon to be followed on 3rd November 1977 with the General Service Medal (Malay Peninsula).
He'd been back for two-years.. including tours with the band onboard HM Royal Yacht Britannia between 1978-81 before suffering a severe setback in his life.. Following a tour of North Africa, the next leg of the trip was the State visit by Her Majesty to Italy. Trevor suffered a break down... he was subsequently taken off the yacht at Naples and flown home.. the following day Trevor was admitted to Royal Naval Hospital Haslar, where he resided for five months before being medically discharged out of the Royal Marines Band Service.. on 4th August 1982, just eighteen months short of his original terminal date.
On his return to civilian life.. Trevor gained employment at a funeral directors for a few years, while at the same time continuing passionately with his music. He joined his great friend and fellow Royal Marines bandy Rodney Preston who he had been pals with since the day they joined up together, they were joined by a civilian to form a trio... his life had turned around and playing music again was the reason to celebrate the transformation of Trevor's life following his break down. He then took up teaching cello and brass working in various schools, he also taught music privately. He played cello in several local orchestras and did some pit orchestra work, he was acellist in various quartet and small groups led by Rodney and once a year dusted off his valve trombone to play for the annual Master Mariners dinner in the seven-piece band that Rodney managed.
Trevor and Sue like many other couples had their difficulties and as a consequence, their twenty-three year marriage came to an end in 1987, however they did remain good friends. Trevor did go on to remarry.
Sadly.. Trevor Foster suddenly passed away on 2nd April 2013 aged 68 due to a massive heart attack.. His funeral service was held at Portchester Crematorium on 17th April, many former colleagues from the Band Service travelled from all over the country to attend the service. Sue and Michelle organised a wake afterwards at 'The Seagull' to give him a right Royal Marine Band send off. Trevor never lost his interest in music nor his love of playing the Cello, he continues to be missed by all who knew him from both his service and civilian life.
RIP Trevor