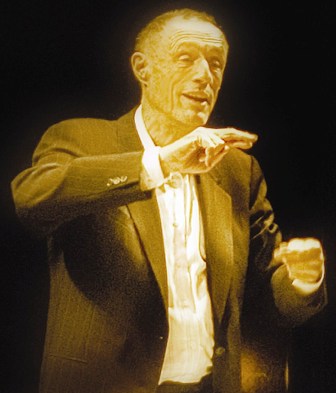 Meet the Maestro:
Patrick Flynn
"Patrick Flynn, making his Covent Garden debut last night conducting "Romeo and Juliet" showed himself a masterly artist doing justice to all aspects of the music. Here is a conductor to treasure. I heard things in the score I have never heard before." London Daily Telegraph
British conductor Patrick Flynn is noted for his vast repertoire and enthusiastic responses from audiences around the world. American critic Jean Pierre Barricelli has described him as "the complete conductor—the podium equivalent of a polymath". After his Covent Garden debut the London Daily Telegraph wrote: "Here is a conductor to treasure." His career has encompassed the entire spectrum of musical production including symphony, opera, theatre and film.
He has conducted for the BBC, the BBC Concert Orchestra and Paris Opera. World premieres include Roland Petit's Phantom de l'Opera in Paris, John Williams' Clarinet Concerto in California and Gareth Farr's Ruauamoko in New Zealand. In London, he conducted the Sherrill Milnes TV special "Salute to America" and the English National Ballet's historic ballet-in-the round Swan Lake at the Royal Albert Hall. His recording of the score was selected by Fanfare magazine as one of the best new releases of 1996.
For the theatre, he has conducted for Joan Sutherland and Kiri Te Kanawa with the Australian Opera at the Sydney Opera House, Rudolf Nureyev on Broadway, and at Sir Andrew Lloyd Webber's request, he led the first concert performances of Jesus Christ Superstar.
Following a much-lauded New York debut, Flynn conducted for many prominent orchestras and festivals throughout the United States and Europe. A partial listing includes the Spoleto Festival, The Varna International Festival, and the Chautauqua Festival; the orchestras of Louisville, Memphis, San Diego, the Los Angeles Mozart Orchestra, and the Manhattan and Florida Philharmonics. Recent appearances included Wisconsin's Madison Symphony with Pinkas Zukerman, the Holland Festival in Amsterdam and an acclaimed debut with the Saginaw Bay Symphony Orchestra in Michigan, after which he was offered and accepted the post of Music Director. Since 2003, he has been a regular guest conductor for the Finnish National Opera and the Holland Symphonia.
In 2008 Patrick Flynn celebrates his seventeenth season with California's acclaimed Riverside County Philharmonic. His accessible style in outreach and programming has been the driving force behind that orchestra's 300% audience growth and has established him as a Pied Piper for symphonic music in Southern California. Beginning his career as a pianist, Flynn studied with Cyril Smith and Julius Katchen, winning Britain's Cassell Prize while still a student. He achieved his Licentiate of London's Royal Academy of Music in conducting, and continued private studies with Sir John Barbirolli. His first professional appointment was as staff conductor for the Australian Opera in 1970.
Mr. Flynn passed away suddenly September 10, 2008 at Cedars Sinai Hospital, Los Angeles from a pulmonary embolism. He was beloved in the Riverside area and admired for his wit and fierce loyalty to the Philharmonic. His spirit and talent will be sorely missed.

[Editor] Graham Hoskins brought this to my attention, but I am not sure Graham realized Mr Flynn's demise. I quote: " I think the biography I attach may be of interest if it is not already part of your extensive library of RMB material. Patrick Flynn was a band boy with me at Deal in the 1950s when he was much acclaimed winning the annual class prize (pianoforte) in 1951 and later a Worshipful Company of Musicians Cassel Prize Silver Medal. Having located this attachment through the Internet I have tried to contact him using his e-mail address but without success. I am sure that there will be many RMB colleagues and friends delighted to be aware of his huge professional success since those early days when his musical promise was there for us all to see, hear and endeavour to emulate!
With renewed best regards.
Graham