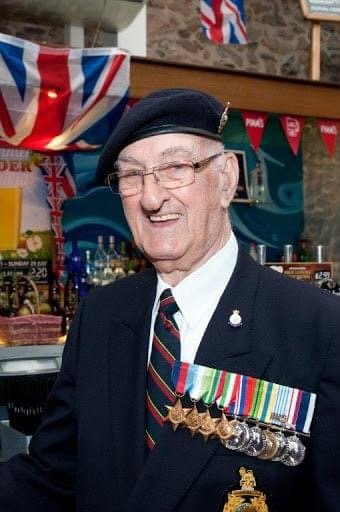 Eric William Greenleaf was born on Tuesday 31st August 1920 in Plymouth's historic Barbican, he was the second son of Frederick and Annie Greenleaf (nee Hubbard). His mother suggested he should go and be a painter and decorator, but young Eric only had an interest in joining up after being encouraged by a friend. In April 1935, he arrived at the Royal Naval School of Music at Deal aged fourteen, unable to play an instrument or even sing a note, telling his superiors he could just about manage the harmonica. He was taught how to play the clarinet and viola, later on he taught himself the guitar and saxophone.
Sadly.. Eric's 26-year old brother Howard was killed while serving on the aircraft carrier HMS Courageous within days of the outbreak of World War II. The young Marine H Greenleaf PLY/X 649 was one of 518 men who died when the warship was torpedoed and sunk within twenty minutes during an anti-submarine patrol off the southwest coast of Ireland on 17th September 1939. Howard is commemorated on the Plymouth Naval Memorial.
Eric served throughout the Second World War. He was posted to the band onboard the cruiser HMS Cumberland where, like all Royal Marines Bandsmen, he worked in the Gunnery Transmitting Station in the depths of the ships, close to the vessels fuel tanks. There, the musicians controlled the eight-inch guns and all the targeting for the ship's gunfire.
At the beginning of December 1939 HMS Cumberland was forced to self-refit in the Falkland Islands thus depriving the force of their strongest unit. Without her, HMS Exeter, Ajax and Achilles engaged the German raider Admiral Graf Spee in the Battle of the River Plate on 13th December. It was the first Naval battle of the war. Cumberland received a garbled indication that a contact was being made and moved north to reinforce, arriving at the River Plate at 10pm on 14th December after steaming a thousand miles in just thirty-four hours. Admiral Graf Spee had put into neutral Montevideo and was trapped there. Cumberland along with Ajax, Achilles and a badly damaged Exeter, patrolled the estuary, resulting in Admiral Graf Spee being scuttled by her crew on 17th December.
Eric diced death himself when an Australian ship he was on.. HMAS Vampire was sunk on 9th April 1942 after leaving Ceylon, Vampire Commander Moran and eight ratings were killed or died of wounds. Some 600 men were rescued by the hospital ship Vita, others were picked up by local fishing vessels and a few men were even able to swim ashore. Eric spent nine hours in the water clinging to a piece of decking with a fellow musician who was covered in oil and couldn't swim. After being rescued he re-joined HMS Cumberland in Buenos Aires. HMS Cumberland joined the 1st Cruiser Squadron Home Fleet escorting the Arctic Convoys until January 1944, ultimately being awarded the battle honour Arctic 1942-1943. Eric went on to complete fifteen treacherous Arctic Convoys from Scotland to Murmansk and back, delivering vital supplies to the Soviet Union, with the constant threat of German U-Boats, aircraft and the extreme cold. His most catastrophic convoy started with fifty-eight ships.. returning with only four. Due to the dangerous position of the transmitting station, the Royal Marines Band Service lost a larger percentage of personnel during the Second World War than any other individual branch of the Navy. Eric carried all their names with him on a sheet of paper, as many of them were friends.
As the war against Germany was ending, Eric joined the light cruiser HMS Newfoundland in the war against Japan. Repairs delayed her arrival in the Far East for service with the British Pacific Fleet (BPF). Newfoundland sailed to New Guinea to support the Australian 6th Division in the Aitape-Wewak campaign.
On 14th June 1945, as part of a BPF task group, Newfoundland attacked the Japanese naval base at Truk, in the Caroline Islands during Operation Inmate. On 6th July Newfoundland left the forward base of Manus in the Admiralty Islands with other ships of the BPF to take part in the Allied campaign against the Japanese home islands. On 9th August she took part in the bombardment of the Japanese city of Kamaishi. Newfoundland was part of a British Empire force which took control of the naval base at Yokosuka. The ship was present in Tokyo Bay when the Instrument of Surrender was signed aboard the US battleship USS Missouri on 2nd September 1945. Newfoundland was then assigned the task of repatriating British prisoners of war. The ship returned to Great Britain in December 1946.
Soon after his return, Eric, aged 26 and his 21 year old Plymouth maid Joan Williams were married on 14th December 1946 in St Gabriel, Plymouth. The couple had a son, Raymond, who was born in 1948 and lives in Cornwall. Following the war, Eric assumed the role he joined for.. to play music with the Band. He played at the 1948 Olympics which were held in London and cup finals at Wembley. He played to heads of state and members of the Royal Family and travelled all over the world.
Just five years after the Second World War ended, he saw active service again during the Korean War with HMS Newcastle. Eric went on to complete twenty-six years as a Royal Marines musician, serving onboard seven ships, he also paraded on many engagements as a Drum Major, including a pass-out parade before a young Princess Elizabeth at BRNC in 1950. Eric finally retired from the Royal Marines Band Service in 1960 and returned to his hometown. As a civilian, Mr Greenleaf worked for two years in the wardroom at HMS Thunderer, which was the Royal Naval Engineering College at Manadon.. He was a great friend and help to the band, in particular the Bandmaster Michael Hutton. It was the first time there had ever been a Royal Marines Band at HMS Thunderer, so having Eric there was a great help in sorting out all the necessary difficulties that were apparent on their arrival. Jan became a regular in the Band Mess.
It was another extremely sad time for Eric once again when his wife Joan sadly passed away from pancreatic cancer in 1962 aged just thirty-seven.
Eric attended all the reunions in Deal during the 1980s, accompanied by his good friend Brian Mann. As the years rolled on.. Eric attended remembrance services and reunions all over, including the annual Royal Marines Band Reunion weekend and his appearance at local ceremonies were gradually earning him celebrity status.
The Heroes Return 2 Scheme was launched by the Big Lottery Fund in April 2009. Under this scheme funding was provided for veterans, spouses, widows and carers wishing to return to those places where they fought during the Second World War and mark any relevant anniversaries. Eric chose to fly to Australia for three weeks to visit another former Royal Marines Band musician and friend having been awarded £3700.
In 2013, Eric Greenleaf was presented with his newly commissioned Arctic Star Medal at HMS Raleigh, after campaigners fought for long-awaited recognition for the part the heroes played in the Russian Convoys during the war after more than seventy years.
Eric lived in sheltered housing at Brock House in Batter Street along with his good friend and former Royal Navy Chef Dave McDonald. It's just yards from the house where he was born on Plymouth's Barbican, he used to have his own chair in the Gog and Magog in Southside Street Plymouth and was also a frequent visitor to Raleigh Band's headquarters in Torpoint, assisted by his good friend Gordon Carter.
Eric, at 93 still felt young at heart.. when he went on a runs ashore to Edinburgh and Blackpool with his pal Dave McDonald and some of the ex FOSNI ranks: Paul Castledine, Bob Thomson, Paul Donovan and Gordon Jenkins.
In an interview with a newspaper in 2015, Eric credited his health and sunny outlook to one thing.. being a member of the Band of Her Majesty's Royal Marines.. "I make no bones about it," said Eric. "I'd be dead if it wasn't for the band. They have kept me going all these years. It means everything in the world to me, the friendships I've got with them. When you're sitting there, playing along with them, well, there's nothing like it. Music controls the savage mind and it's certainly helped me. I'll keep going until the rigor mortis sets in !"
Speaking about his efforts during the war, Eric, like many from his generation felt he was just doing his job. "I'm not a big head and I don't like all the fanfare," he says. "I would give all the medals away. I got home safe. There were plenty that didn't."
Eric, a legend, a character and a true inspiration to many, sadly passed away on 26th April 2018 aged 97 in his beloved Plymouth. His funeral service was held on 15th May at Efford Crematorium in Plymouth.
RIP Eric