Hi Richard
What a superb weekend we had at the Reunion and it was great to see you again. As the PDM remarked on Saturday night it was your site and the exposure you gave the event that must have helped to get so many there.
With reference to the CG Squad photo that I showed you and also many members of my age at the Reunion where I was trying find the names of the band-boys faces, well in the end I failed on just one.
I've attached the photo with a request that if you can, is there some way of putting it on your site.
It will be interesting to see if someone remembers his name. With any luck he might even get in touch himself.
Thank you once again for keeping all of us in touch with each another and I hope you had a good journey home.
Best regards
Ian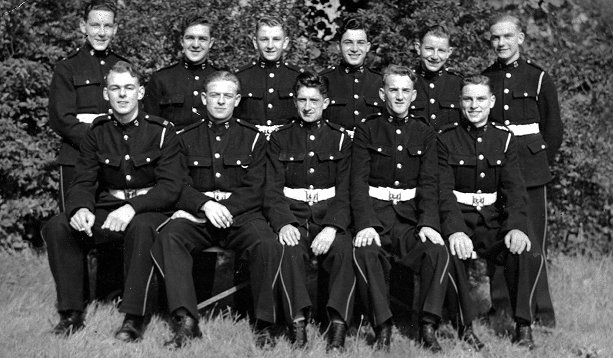 Back Row l to r: Neff Collins, Terry Parker, Ernie Ward, EC Payne, Bert Nichols, Ivan Petters
Front Row l to r: Mick Fielding, (name the boy), Alan Brown*, Derek Holder, Wally Spencer

At the reunion in Portsmouth last week I spoke with many 'band boys' of the age,
but no-one could put a name to the face.
I think I should know his name as I'm pretty sure he was a trombone player and I
must have sat in the practice room with him as he was a year or two behind me. There
were a few members of our squad at the reunion but none could name him.

If you can help in any way please e-mail me: ianepps@yahoo.co.uk
Ian 'Eggy' Epps
* Named by Ray Edwards - see guestbook entry #1250