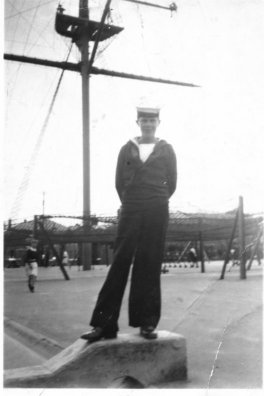 Dear Maxie,
I've just been looking at some of your "recollections" and noticed that you were serving in "HMS Ganges" in 1950.
Were you there in mid 1949 because if you were you might just remember a young sailor who was invited into the band-room where you would have been at practice one morning.
It was I.
I was a "boy seaman" and was standing outside the band-room listening when one of the band came out, he asked what I was doing and I explained that I was listening to the music as I played trombone in the Salvation Army. He asked if I would like a blow and invited me in. The bandmaster approved and I had a blow and he asked me what I was doing becoming a sailor when I could be transferred to the RNSM, as it was then. He said he would speak to my Divisional Officer who was Lt. Cmdr. Cameron VC of midget submarine fame.
To cut a long story short I had an interview and transferred to the RNSM at Burford in August 1949, It was like joining a holiday camp after the regime in Ganges.
Attached a photo not far from the band-room which if I remember rightly was on the side of the parade ground.
As to the attached photo, I went over that mast first in January 49 at 8am with the ratlines covered in frost and ice with what appeared to be a huge CPO driving you upwards with a cane in his hand, it was not an option to refuse and there was no "Health & Safety" in those days. Chief Petty Officers were to boy seamen "Lord God Almighty" worse than a certain RSM Franks ever was. He was a 'Pussy Cat' in relation.
Just a small recollection of what I came to remember as a very fortunate day in my life.
Best regards
Ian
********************************************

PS:
Dear Richard,

I read with some satisfaction the report that; "Its all Maxie's fault" On the Notice Board. Although it's 61 years ago I remember the incident vividly, and now sitting back in my Golden years I feel somewhat honoured to have been remembered in this way, I'm sure that Ian (Eggy) would agree that the transfer from the Senior Service to the Band of HM Royal Marines was the best thing that could ever happen to anyone that has the slightest musical knowledge. I have yet to meet an Ex RMB that has any regrets about his time in the Band Service, forget the hardships, the marching and the likes of RSM's past and present the happy memories of us all outweigh any of the dark hours. I shall reply to Ian by way of Email, and thank him for yet another happy memory of days gone by.

Bye for now Bernard S Maxie Beare.