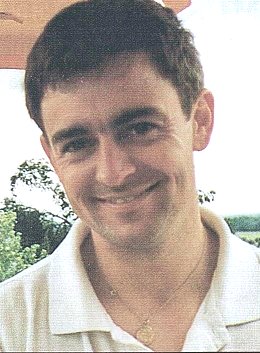 Dean Patrick Pavey was born in Eastbourne Sussex to parents Peter and Irene on Thursday 30th October 1957.
He joined the Royal Marines Band Service in 1973 after initially auditioning on cornet.. the instrument he'd played when he was growing up with the Eastbourne Silver Band, but unfortunately there were no vacancies and he was offered a place as a bassoon player.
While under training he was part of a team in the wing that competed in the 1974 Devizes to Westminster canoe race with Andy Crick, Kev Horner and Bob Spiller. Dean continued and excelled with his canoeing and later represented the Corps in the sport.
His first draft out of training was to the Royal Marines Band Commander in Chief Fleet based at HMS Pembroke Chatham. Dean married Yana Bentley in their hometown of Eastbourne in March 1978, she is the mother of his two boys.. Michael and Daniel.
Following a successful Junior Command Course in 1981, Musician Pavey gained promotion to Band Corporal in 1984.
In 1985.. their eldest son Michael became seriously ill with Leukemia, as a consequence Dean was drafted back to the Royal Marines School of Music as bassoon Instructor.
In the summer of 1986 he transferred across the parade ground to the RMSM Staff Band. Not only did Dean work hard to become a competent reliable bassoonist, bass drummer and cymbal player but he spent hours and hours running the band coffee boat.
He was also a great help with the Deal Boy Scouts.
Early in 1987.. Dean braved the freezing temperatures of Woodbury Common on the way to passing his Senior Command Course.
He was part of the Staff Band party that travelled to Australia to take part in the Royal Sydney Easter Show in 1988. Just a few miles down the road of course.. Bondi Beach.. ideal for his passion for windsurfing.
Dean found love for a second time and indeed became engaged to Theresa.. sadly there was to be no wedding for the couple..
Dean was Duty Cpl of Training Company on the evening of 21st September through until the morning, he was just getting out of rig to go home...
BCpl Dean Pavey was tragically taken from us in the atrocity of 22nd September 1989 aged 31 along with ten of his brothers, that day will forever be etched in our memories.
His funeral with full military honours was held on 4th October at St Michael's and All Angels Church in South Barracks, he was later interred at Hamilton Road Cemetery in Deal, adjacent to Mark Petch and Chris Nolan. Their graves are located in the area of the cemetery managed by the Commonwealth War Graves Commission.
Deans younger brother Mark who lives in Tavistock Devon is a cornet player and travelled to make many appearances with the All Stars Band at their annual concert at Margate Winter Gardens.
RIP Dean