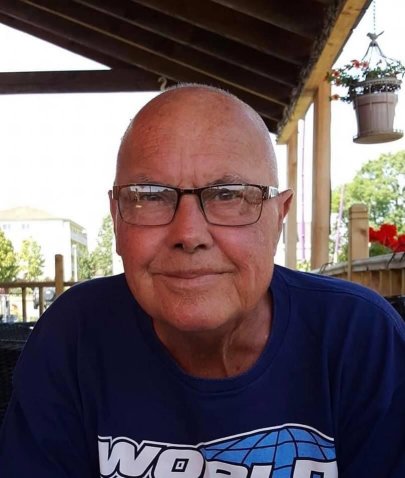 David J Gordon was born on Saturday 10th October 1953 in Hailsham, East Sussex. He was educated at Hailsham Secondary School on Battle Road.
He was born David Gordon.. which was his mother's maiden name, she married a Butler when David was young and he subsequently took his name.
David Butler travelled to RM Deal where he joined the Royal Marines Band Service as a Junior Bugler on 8th October 1969. He was a part of a talented forty-strong 3/69 Squad that included Junior Buglers Trev D'Arcy, Geordie Renwick and future Corps Drum Major Mick Saywell.
Bugler Butlers' first ship was the light cruiser HMS Blake.. he sailed onboard her in 1971 for a trip to the United States and West Indies (including Bermuda) along with fellow Bugler Derek 'Taff' Morgans.
In October the ship arrived in San Francisco for British Week. It was the largest commercial and cultural event ever staged in the city by another country. HRH Princess Alexandra officially opened the promotion, that also featured 'The Flying Scotsman'.
Bugler Butler then spent some time with the Royal Marines Band HMS Ganges at Shotley in Suffolk.... -1973- the main training establishment for naval recruits.
Dave somehow managed to break his leg which set him back quite a bit, but he recovered well enough to enable him to board HMS Victory as Ships Bugler in and around -1976-
Staff Band 1978/79
He was lucky enough to be given the role of Ships Bugler on the Guided-Missile Destroyer HMS Norfolk in 1979, where the ship sailed to the Far East, Australasia and the South Pacific between May and December.
On 8th January 1980.. Bugler Butler was promoted to Cpl Bugler at the same time as Jack Barker.
In 1982.. Cpl Bugler Butler was drafted to the Royal Marines Band Britannia Royal Naval College (BRNC) at Dartmouth, he certainly made his mark in the band.. always at the forefront of any dressing up by the Corps of Drums during concert extras. He transformed into Santa for 'Twas the Night Before Christmas' during the festive concerts in the Caspar John Hall and at the Festival Theatre in Paignton in 1982... he was also one of the four legged friendly buglers during the regular featured piece.. 'Mad Dogs and Englishmen'.
Early in 1982.. Dave married for the first time to Denise Langworthy, they occupied a married quarter in the college before buying their own house at Ford Valley in Dartmouth that they shared with their airedale terrier.
Dave enjoyed the visits to Briquebec in France for the '1983 Festival of Sainte Anne'... Jersey, when the band was invited to perform at the fortieth anniversary of the islands' liberation from German occupation and a freezing cold trip to Sweden in 1985 where the band opened the Braviken Paper Mill.
Dave served at BRNC for six-years until 1988 when he moved on to the Royal Marines School of Music Staff Band.
He was in charge of the Deal Corps of Drums that made the trip to over to St Nazaire in Brittany France on a gig to launch the new P&O cruise liner Star Princess. The ship has been renamed six times since.. including Ocean Village.. and the latest being MV Columbus.
He was a member of the Staff Band Corps of Drums at the time of the dreadful bombing of the Deal Barracks on 22nd September 1989 and was on the front rank exactly a week later when the band formed up and made their defiant march through the town.
Following a very brief stay at Raleigh Band.. Dave made a reasonably quick return to Dartmouth in 1989. He made the enjoyable trip to Hamburg in the same year, to accompany the visit of HMS Illustrious. He followed it with an even more memorable trip when the Corps of Drums flew out to Toronto, where they partook in the 'British Show'. Trips to Paris for the British Embassy and Oslo for the visit of HMS Ark Royal were also added to his CV.
Dave enjoyed his final foreign trip in 1991.. shortly after the collapse of the Soviet Union he was amongst the travelling contingent that flew by RAF Hercules to Sevastopol in the Ukraine in support of the goodwill visit of HMS Fearless. The first time that a British Ship had docked behind the iron curtain for decades.
Dave would never try and shy away from any type of trip away or even a parade in the college.. he was always at the forefront of anything that the band undertook.
One thing that Dave was really good at was his ability in the military side his career.. He was one of those strange people that actually enjoyed military training.. and would probably have made a good Commando.
Generally he wasn't the fittest of band members and struggled at times with the BFT.. however Dave shone whenever there was a band cricket match.. flying between the wickets as opening batsman. He was a passionate golfer.. loved to fish and he enjoyed a game of cards too.
Dave retired from the Royal Marines Band Service on 10th October 1993 following twenty-two dedicated years. As part of his Extra Vocational Training he decided to take a crash driving course and test, a necessity for his any future employment. Dave moved to nearby Totnes when he left the band service.. and later separated from Denise.
In 1995 he joined the team at the Torquay branch of the RSPCA and employed as an animal collection/driver... he was in the post for four years. It was while he was there that he met Kath she worked there too and their relationship took off.
Dave's career path took another turn in January 2000 when he gained employment with Colebrook South West Ltd as an Outreach Support Worker based in the Millfields building on Union street in Plymouth. His role would have entailed working with vulnerable people.. helping them to develop their independence, skills and realise their goals... (sounds like Dartmouth Corps of Drums!)
Dave ventured into married life for a second time when Kath agreed to become his wife. They wed at Oldway Mansion in Paignton on 29th September 2001, the building was used as council offices and for civil marriage ceremonies until 2013.
Dave and Kath decided to go and live over the channel in Magnac-Laval.. a town in central France, they decided to make the move for a new adventure and the prospects of good fishing.
Later in life.. Dave reverted back to the surname Gordon following the passing of his his stepfather. Although Dave had no offspring of his own.. he did prove to be a great dad to Kath's children and a wonderful grandfather who all loved him dearly.
Dave suffered for a good while from multiple myeloma, which is a cancer that forms in a type of white blood cell called a plasma cell.. he undertook various treatments to try and combat the disease including chemotherapy. In 2019 his myeloma was starting to show signs of improvement when on top of that he developed clinical meningitis.
Dave and Kath were due to move house at the end of May 2020 and didn't foresee what was about to happen.. David's health rapidly deteriorated as a result of the myeloma.. He sadly passed away on 25th May 2020.
His funeral took place at Limoges Crematorium on 2nd June. Unfortunately due to the Covid 19 pandemic restrictions, there were only ten people allowed to attend the service.
RIP Dave