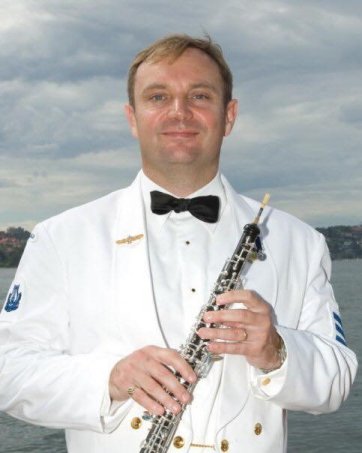 While our thoughts are naturally drawn on the 22nd September and rightly so to our eleven colleagues that were so cruelly taken from us in 1989, we must always remember with affection, Colin Hughes who died so needlessly on this very same date in 2012.

Colin Hughes was born on 20th April 1967 in Barton, located on the west side of Manchester, he attended St Mary's Primary, before progressing to Irlam High School.

He joined the Royal Marines Band Service on 30th April 1984 as an oboe player. He was one of only three members of 2/84 troop, but only two of them managed to pass out of training, the other one being Musician Richard Fice.

Colin excelled in the training wing, under the guidance of Professor of Oboe Mr John Williams, winning the Houghton Trophy for best woodwind player of the year. He was then awarded the bronze medal in the Cassel Prize playing 'Carnival of Venice', before successfully completing training at the School of Music in 1987. Musician Hughes upon being awarded his M3 status, was rewarded with his first draft as a trained rank to the Royal Marines Band Commander in Chief Fleet, based at RAF Northolt in London.

Colin and Kay had been childhood sweethearts since they met at Irlam High School and on 23rd July 1988, they became Man & Wife at Monton Church in Eccles. Colin's Best Man was Richard Fice. The newlyweds didn't spend a great deal of time together following their wedding, as Colin was selected for the fortnight long trip in October to Gibraltar.

Following a brief return to the UK, Colin flew out with Fleet Band to the USA for three months in support of the visit by HMS Illustrious to Charleston and Fort Lauderdale. The Band also took part in the US Marine Corps birthday celebrations in North and South Carolina and further gigs in Washington.

Colin was really starting to clock up the air miles now and was part of the band that flew to Bermuda and back in a comfortable Hercules in 1989, to support the visit of HMS York.

Colin and Kay were united in grief along with the entire Band Service family, when just over a year later on 22nd September 1989, the dreadful atrocity at the Royal Marines School of Music took place. Amongst the 11 fatalities that day was best man Richard Fice. Colin was one of the six pallbearers at his funeral at Llandaff Cathedral in Cardiff.

Colin remained at Northolt until 1990, when drafty sent him to the relatively quieter life at the Royal Marines Band Britannia Royal Naval College. Col & Kay settled in nicely in the surroundings of the very colourful Rock Park and they were overjoyed in 1992 by the arrival of baby daughter Megan Elizabeth.

In 1991 amongst all the Colours, Divisions and security duties at BRNC, was a visit to Sevastopol in the Ukraine, the home of the Black Sea Fleet. From there it was off to Constanta in Romania on board HMS Fearless and onwards to Bucharest. A year later Colin was selected for the band that made the lengthy trip to the Falklands, to commemorate the tenth anniversary of the War.

Colin was promoted to Band Corporal in spring 1992 and his ability as a musician was demonstrated shortly after in the Dartmouth Band recording 'Anything Goes', when he performed the magical oboe feature 'The Watermill' by Ronald Binge.

Colin's stay at Dartmouth came to an end in January 1993, when he returned to Fleet Band... but his stay at Northolt didn't last too long, as just over a year later in March 1994, the Commander in Chief Fleet Band was disbanded, and he departed for the Royal Marines School of Music Staff Band. He was only at Deal for a few months, where they resided on the equally colourful Freemens Way. During that short period, he managed to squeeze in a five-week tour of Canada with Staff Band, performing at the Halifax Nova Scotia international Tattoo, then flying on to Calgary, Vancouver and finally Victoria.

In August 1994, Colin was on the move again, back to BRNC, his stay this time at Dartmouth was, compared to his other drafts a lengthy eight years.

Shortly after the move back to Devon in 1995, Col and Kay were blessed with a second daughter Madeleine Kay. Then a year later in 1996 promotion to BSgt. Dartmouth Band at the time were afforded more foreign trips than any other time in the Bands history, Colin was involved in many: Cyprus, Portland Oregon in August 1996, where they played at a Memorial for the Chosin Few. He also had the pleasure of a second visit to the Falklands, Norway and the USA trip to Washington & San Diego in 2000, to take part in the fiftieth anniversary of the Korean War. His final trip with BRNC Band was to Naples in 2001.

Colin was the oboist in the 2001 BRNC recording of Trafalgar, he also received his Long Service Good Conduct Medal whilst at Dartmouth.

Colin was promoted to BdCSgt in the summer of 2002, when he exchanged Devon for Hertfordshire where he was appointed Volunteer Band Instructor at the Joint Support Unit Northwood, taking over the role from his good friend Brian O'Kane. Col spent around a year in the VBI role and handed over the baton to Gary Standeven, before the Hughes family travelled down the M3 to Portsmouth in 2003, a draft for Colin to the Royal Band and for Kay, employment at their local Boots store in Emsworth.

Apart from a week or two helping out Scotland Band while their Band was away in the Gulf, this was to be Colin's final draft in the Royal Marines Band Service, with a nice little trip to Dubai in 2005... we'll just call it his leaving routine. BCSgt Colin Hughes was discharged in 2007, having completed 24 years exemplary service.

Big plans were swinging into place for Colin, Kay and their girls. Soon after leaving the RMBS, on 17th May and following quite a lengthy application process, the Hughes family emigrated to Australia. They moved to the Caringbah area of Sydney to begin a new life, while at the same time Colin began a new military career with the Sydney Band of the Royal Australian Navy. During his time with the RAN Band, he performed at engagements in China, Samoa and at the Brunei International Tattoo in 2011. He really was a well-travelled man...
Not only was he an outstanding oboist, bass drummer and cymbal holder, he also learned to play the side drum for parades and Beat Retreats. Colin received the Australian Defence Medal in 2011 in recognition of four years service.

Leading Seaman Musician Colin Hughes while away with the band during Navy week, was tragically and needlessly killed in Cairns Australia on 22nd September 2012 aged 45, as a result of an unqualified driver who had taken a cocktail of drink and drugs.

Unimaginable that both Colin and Richard were taken from us on the same day twenty three years apart, both in such tragic circumstances. Colin's funeral service was held at the Garden Island Naval Base, Sydney, on Friday 5th October, followed by a tot or two at The Caringbah Inn.

Friends and colleagues from his many years spent at BRNC gathered that same evening at the ANZAC Club in Dartmouth to toast a very good friend. A memorial service for Colin was also held on 21st October at St John's Church, Irlam, Manchester.

Colin had a unique sense of humour, a unique laugh, you could always tell it was Colin laughing even if you couldn't see him, he was always cracking jokes. He was a wonderful musician and family man. He loved the taste of a nice beer or wine and had a passion for making home brew, most of which should have been labelled as dangerous goods!

Colin has been and will continually be missed.... especially by Kay, Megan and Maddy. The 22nd September will always be a day of remembrance for the eleven, and for Colin Hughes.

Paul Foley