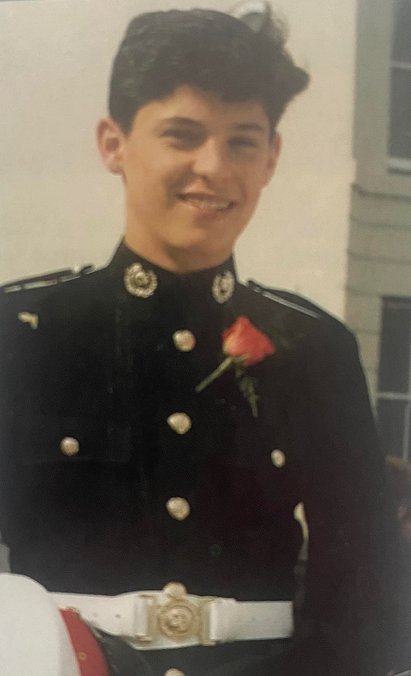 Christopher Robert Nolan was born on Tuesday 2nd July 1968 in Marlborough Wiltshire by parents Clyde and Cecily (Barnes) but was raised in Poole Dorset along with his older sister Sarah. Christopher loved music and sport as a boy, particularly cricket.
Chris joined the Royal Marines Band Service on 3rd September 1984, becoming a brother of 3/84 New Entry Troop, under the command of troop DI Sgt George Webster. Chris studied as a tenor saxophone & violin player guided by instructor BCpl Brian Starr. His talents earned him 'The Freestone Trophy' in 1986 for his achievement in dance band, he was also awarded a Special Merit for violin.
Chris married Sarah Langley in 1987 and they produced a son Aaron the following year, however their marriage didn't last long and the couple separated. Chris lived in High Street Deal and formed a new relationship with girlfriend Janine.. In addition to his love of cricket, Chris enjoyed golf and was also a keen swimmer.
As a member of Staff Band, Chris would have been involved with many of the Massed Bands engagements including Mountbatten's, Beating Retreats and Royal Tournaments. The highlight of his time in the band was the 1988 trip to Australia to perform at the Royal Agricultural Sydney Show.
Chris was critically injured in the hideous bombing of Deal Barracks on 22nd September 1989. He suffered multiple blast injuries and was taken to Kent & Canterbury Hospital before being transferred to the Brompton Hospital in London.

Musician Christopher Nolan aged just 21 was unable to regain consciousness and sadly lost his fight for life on 18th October 1989, becoming the eleventh victim nearly four weeks after the cowardly attack. Chris was buried in Hamilton Road Cemetery, Deal, Row 8 Grave Number 4826, alongside his friends Dean Pavey and Mark Petch, their graves are managed by the Commonwealth War Graves Commission. Chris and his lost brothers are never too far from the minds of the Band Service family.. their names are etched on a plaque in the Memorial Garden and each of their names inscribed on a tablet that surround the impressive twelve-sided Memorial Bandstand on Walmer Green.
RIP Chris