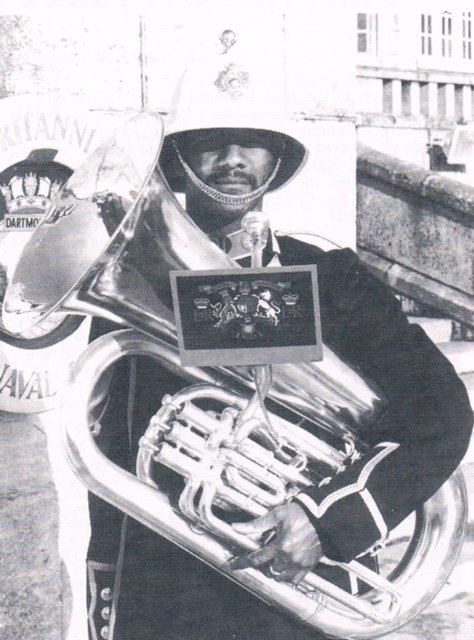 Charlie Miller was born in Guyana and came to the UK with his family in 1960, where they settled in Darlington, County Durham. Brought up in a musical family, Charlie joined the Royal Marines Band Service as a bass player on 13th January 1965, while Charlie's sister joined the RAF as a euphonium player.

He was one of only nine trainees in 5/64 troop, that included the likes of Buglers Norman Gibbs, Spud Murphy and Alan Knight.

On completion of his training, Charlie was drafted to HMS St Vincent in Gosport in September 1967. There followed a move to HMS Collingwood, where he enjoyed his first trip overseas to perform with the Eastney Band at the NATO Tattoo in Arnhem, before further engagements in Brussels. Then followed a short draft to HMS Excellent, before moving across to Eastney. It was there that Charlie was made up to Band Corporal in 1973.
His next stop was to Commander in Chief Fleet Band at HMS Pembroke, this draft provided frequent trips abroad, and also frequent trips to the golf course.

Charlie was sent on loan to the Royal Marines Band HMS Daedalus for a few months, before the draft became permanent in October 1976. Daedalus Band embarked onboard HMS Hermes for the Queens Silver Jubilee Fleet Review in 1977. In September 1977, the Band moved from Daedalus to HMS Heron at Yeovilton, to become FONAC Band. A few trips to the Pebble Mill studios were memorable, as was a summer trip to Toronto for the Canadian National Exhibition in 1978.

Charlie was promoted to Band Sergeant in January 1979, and shortly afterwards in May, a draft to Britannia Royal Naval College Dartmouth. The Bands duties were mainly confined to the College, but he was lucky enough to be rewarded with a trip to Jersey, and a second outing to the Canadian National Exhibition in August 1980, with the combined BRNC and the Royal Marines School of Music Bands. While at BRNC, Charlie lived with his wife Elizabeth and their newborn son over the water in Paignton.

Charlie left Dartmouth to take over as BCSgt Volunteer Band Instructor at HMS Dryad in 1983. Dryad was the Royal Navy's Maritime Warfare School, his time spent there included a visit to Cologne. He kept the position for six years until 1989, when he retired from the Royal Marines Band Service.

Charlie was always a keen sportsman, and represented most of his establishments at either football, cricket or basketball.

Charlie sadly died on 7th April 2016, his funeral was held on the 4th May at the Oaks Crematorium, Havant.

Paul Foley