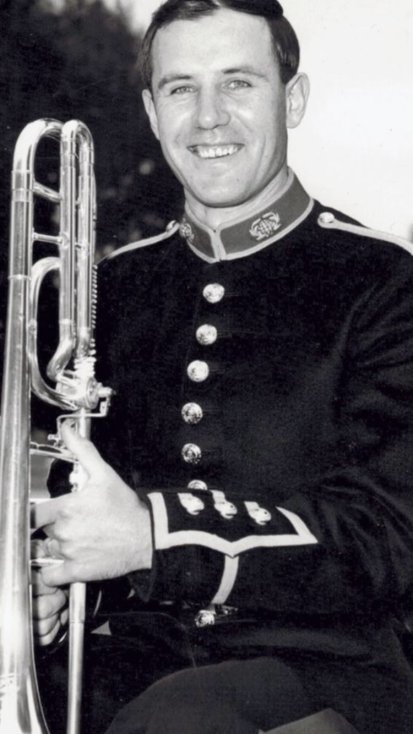 It is with great sadness we announce the passing of Royal Marine Band Colour Sergeant John Anthony Buberle 30/11/1941 - 30/11/2020
John attended Parkstone Sea Training School and enlisted 8/1/1957. During his service he was based at RMSM Deal, HMS Excellent and Eastney Barracks. He served on HMS Tiger joining in 1961 shortly after marrying his wife Jill. In the 1970's John went on to serve on board HM Yacht Britannia. 1973 saw him tour Australasia and Asia including the 1974 Commonwealth Games in Christchurch New Zealand. This was followed in 1976 by a tour of North and South America. During this trip John was awarded the ceremonial honour of being made a Freeman of New Orleans, something he treasured. John went on to end his Marine Duty at HMS Excellent as Band Instructor to the volunteer band at Whale Island. On his discharge his Commanding Office wrote "He is confidently recommended for any type of employment where personal integrity, dedication, loyalty and a ready wit and outgoing personality would be of value".

He worked for many years at BAT Tobacco and then finally at Cams Hall Golf club before retiring to spend time with his wife, 2 daughters, 4 grandsons and his great granddaughter and enjoying what he loved to do, travelling but this time accompanied by his beloved wife Jilly.