Hi Dickie.

So sorry for the delay in getting in touch. I downloaded Internet Explorer 8 beta very thing worked except your site, loaded 1st page, on the 2nd only got half of it with FVD photos changing and the banner across the top running, and that was it. Downloaded Google Chrome and the site is back up and running FASTER than ever, great! The write up (Fernleigh Judge deceased) is great and with the photos even better.

I am in the middle of building a 52 inch model of the "Bismarck" which I really am enjoying, as a kit, detail is fantastic will keep me going for a few more months, all the upper super structure is brass etched plate, which gives the model the colour as you see it, have loads of spraying to do to get the right colour tho'.

Keep up the good work on the site, that young lady (LaDerzi) certainly knows how to work wonders, a great site she has herself too.

Thank you for all you do.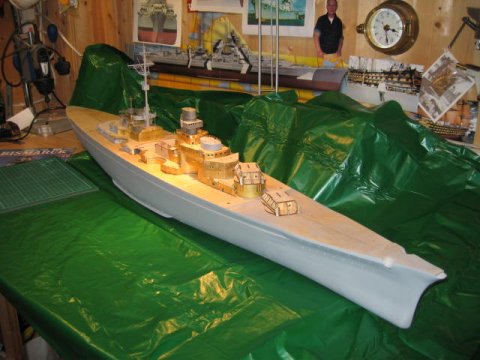 Please keep us up to date with your progress Noel. A fantastic project and I'm sure
that many of us will be interested to see the end result. [Editor]
See more info < click here >