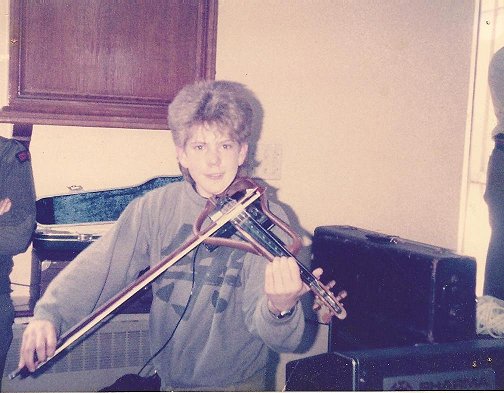 Many years ago, as a young teenager I visited Deal with a county youth band from Northampton. Whilst there I played with the Royal Marine Band and the experience was formative on my future career.
The attached photo was taken in the School of Music concert hall (as I remember) sometime between the years 1984 & '86 and captures me playing a hand-made electric violin belonging to one of the Marine musicians. The piece we played was an original interpretation of Andrew Lloyd Webber's famous Variations, featuring the electric violin. I was given the opportunity to play the violin part in the rehearsal and the experience quite blew my mind. In fact, afterwards I was sent a copy of the score to play with the County band but they never allowed it!
The moment captured in the attached photograph really does mark the start of what has since become my career.
I would dearly love to find out who the owner of that electric violin was and if they are still with us and be able to thank them in person (and find out if they still have that instrument!)
I often wonder how different my life would have been if I'd taken up the offer made to me that day to join!
I hope through your network we might be able to find at least the name and a clearer date?
Thank you
Best Regards
[Update] Ben has since heard directly from John Pring whose said violin it was as pictured. John responded to Ben and included more photos for him. Nice one!