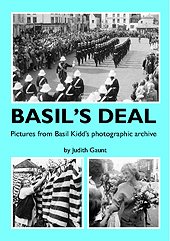 A special two-week exhibition of Basil Kidd's Royal Marines photographs will be held in July at Deal Maritime and Local History Museum, 22 St George's Road, Deal, by kind permission of Basil's family. The exhibition will run from Sunday 6th July to Sunday 20th July inclusive.

The museum opening hours will be specially extended and the museum will be open daily from 11am - 4 pm and until 6pm on Sunday 13th July - the date of the annual Royal Marines Concert at the Royal Marines Bandstand, Walmer, the 25th anniversary of the IRA bombing. A wide variety of Royal Marines pictures will be on display reflecting the breadth of Basil's work over a 40 year career.

The museum houses a vast display of maritime and local history exhibits and this year has three special World War One exhibitions.

Click on images for full size

Published on 18th October and includes a chapter on the Depot Royal Marines at Deal.
Basil, was himself a Royal Marine and first took up a camera when he was on the staff of the Rear Admiral 1st Cruiser Squadron. Basil served on the arctic convoys during WWII and recalled that the instruments would freeze and reeds for his oboe became impossible to get as they came from France. Basil took up his oboe again to play with the All Stars Band.

Many Royal Marines settled in Deal, its locality, and married local girls. Other sections in the book will recall the life of the town: the opening of Deal pier in 1957, the closure of the Betteshanger Colliery in 1989 and in between the dances at the Astor Theatre, boats and fishing on the seafront and the variety of pictures Basil took for over 40 years before his death in 2008.

Judith Gaunt worked with Basil when she was a reporter on the East Kent Mercury in the 1970's and was lucky enough to be offered the opportunity of using Basil's pictures by his son Nick. Judith's first book was "Shops Remembered in Deal and Walmer," in which some of Basil's other local pictures appear.

Basil's Deal is published in paperback priced £14.99 by Bygone Publishing and can be ordered from all good bookshops, online or direct from the author and signed by her on judithgaunt@hotmail.co.uk
*** Please make cheques payable to Judith Davies ***
Judith Gaunt
17 Southwall Road,
Deal,
Kent CT14 9QA

plus £3 postage and packaging, (overseas postage will vary).

[Editor] Please note that Judith writes under her maiden name of Gaunt. Cheques should be made payable to Judith Davies.