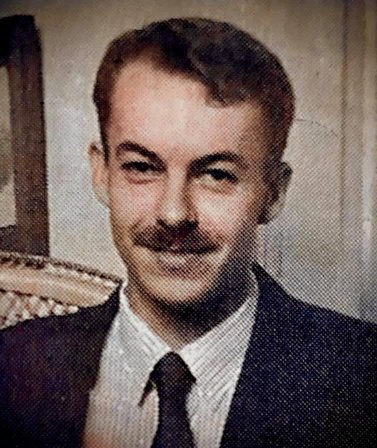 Barry Jon Holland was born on Friday 30th June 1967 in Beccles East Suffolk, to parents Anthony and Beryl, but was raised in the nearby market town of Saxmundham along with his younger twins Terry and Danny.
He attended Saxmundham Primary School where at the age of eight he was first introduced to music when he began learning to play the recorder. Joining Saxmundham Middle School in September 1976, Barry first met Mr Bill Parsons the school music teacher who invited him to learn how to play the trumpet. Barry progressed quickly and began playing in the school brass band. Bill suggested that Barry should have private lessons to push him on so Barry began tuition from a local private teacher Mr John Alderton. It wasn't long before Barry began taking graded exams through the Associated Board of the Royal Schools of Music (ABRSM) in theory of music, trumpet and later piano. John was a member of the nearby Leiston Royal British Legion Brass Band and invited Barry to join the junior band on cornet which he did, he performed in his first gig with the band in 1979 before progressing up to the senior band in 1980. The band carried out many local engagements including fetes, carnivals, concerts and competed in band competitions. At the same time Barry joined the Leiston Air Cadets and received a basic introduction to military life which he enjoyed. He was also a keen bird watcher and a member of the Young Ornithologist Club.. travelling all over Suffolk on organised walks. In September 1980 Barry moved up to Leiston High School where he met another influential music teacher Mr Steve Beckingham who ran the school wind band. Steve was the brother of former Royal Marines Musician and saxophone player John Beckingham. Steve arranged for one of the Royal Marines Bands to perform a concert at Leiston High School as part of their schools' tour to which Barry attended... he was immediately hooked. Continuing to play in the school wind band and the Leiston Royal British Legion Band, Barry's love of music grew and it eventually steered him to pursue a career in music.
In 1983 as Barry left school, he travelled to Deal and auditioned for the Royal Marines Band Service on cornet and violin, he was successful and joined on 10th January 1984 as a Junior Musician and a member of ten-strong 1/84 Troop. He was one of the kindest and most popular members, a talented trumpet/cornet player with a broad Suffolk accent which caused much hilarity amongst his troop. He studied in East Barracks under the guidance of Instructor BSgt Mike Scurfield. Barry began dating Deal girl Victoria Hardy, quite early on in training and Terry followed in Barry's footsteps when he joined the Band Service as a trombonist in 1987.
On completion of training, Musician Holland was drafted to the Royal Marines Band Commander in Chief Naval Home Command at Eastney, initially under the directorship of Captain Ted Whealing, before the arrival of his replacement Captain Jim Ryder.
On 8th August 1987, Barry and Victoria were married at Thomas of Canterbury Church in Blenheim Road, Deal.
While he was in Pompey band, he spent many hours trawling through dots as Assistant Librarian to Roy Hallin, where nothing was too much trouble for him, he travelled extensively, notably on a trip in 1987 to Hamburg and in 1991 Pompey band enjoyed a two-month deployment to New Zealand in support of the fiftieth anniversary of the New Zealand Navy. Barry and Victoria were overjoyed in 1991 when they became parents for the first time with the arrival of Benjamin James.
Barry made a distinct impression with all that knew him, donning those eye-catching woolly jumpers he used to wear in and out of the barracks and his remarkable attention to detail when skilfully building scale models including one of a fighter plane cockpit. Victoria remarked "He was so precise in whatever he did.. I've never known anyone since who took so much time to put up a shelf"! He was a lovely, laid back and genuinely down to earth gent who never said a bad word about anyone.
In 1992 Barry joined the Royal Marines Band Flag Officer Plymouth, based at HMS Raleigh, firstly and once again under the baton of Captain Jim Ryder then his successor Captain John Perkins. The Holland's were blessed with a second child Natasha Jane who made an appearance in 1993.
On Sunday 18th September 1994, the bands of Flag Officer Plymouth and Britannia Royal Naval College were returning home from a parade in London commemorating the 40th Anniversary of the Royal Naval Association when their double-decker coach crashed on the M5 near Clevedon in Somerset. The accident happened when the coach driver swerved to avoid a car and caravan which had jack-knifed, the coach then plunged twenty feet down an embankment. Sadly, Barry Holland aged 27 was the only person killed in the accident, he was sitting next to his brother Terry at the time, another forty-two were injured, ten seriously including six who had to be freed by the emergency services.
Barry's funeral service with full military honours was held on 30th September at HMS Raleigh. Barry was interred three days later in the Royal Military Cemetery at Haslar, Gosport, his name is also inscribed at the National Memorial Arboretum in Staffordshire.
The Holland Bowl is an annual Rugby Sevens competition held between all Royal Marines Bands played in memory of Barry.
You are gone but never forgotten and will always be in our hearts.
RIP Barry