There was a very strong and widely believed Burford legend, that the Americans offered the hospital as it stood, (fully equipped) to the Brits, for a very reasonable price. The new Labour government however, replied thanks, but no thanks - on the basis that eventually they'd probably get it for nothing. At this point the Yanks got bloody-minded and calling in a bulldozer (they were probably also kept in that same store), made a large hole in the ground, put all their priceless hospital equipment - everything that could be moved - into it and filled in the hole, finally concreting it over.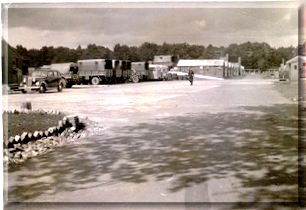 However, they did leave the main buildings standing and that is what the RM Band Service took over. It was a idyllic rural spot in summer but, being fairly high up, a bleak and bitterly cold hell-hole in winter. (Another digression): As was the usual practice when moving into new quarters, the RM Band Service sent a number of quartermasters (Band NCO's) to check the take-over inventory before accepting and signing for everything. They set off for the wilds of Oxfordshire without much enthusiasm and upon arrival began their task (they didn't have much time before the advance guard would be arriving to set the place up). All went as expected until they arrived at the outlying buildings (about twenty of them) in the nearby fields. As mentioned, they had been used as recovery and recuperation accommodation for convalescent Americans and each one had been furnished very comfortably with nice beds and easy chairs as well as upright chairs and tables. Nothing flash, but more than adequate.
They were complete with standard lamps, cheerful curtains and even prints of paintings on the walls, in fact very like a motel room, including facilities for heating light meals and making toast and coffee. The quartermasters (who shall be nameless) found that these buildings were still fully furnished and then later, to their amazement, discovered that none of the furnishings appeared on the inventories they had. The Band Service had long been accepted as containing its fair share of entrepreneurs! There were certainly some amongst the quartermasters. I should add for younger readers that this was at a miserable period in Britain's history when the country was still reeling from the enormous expenditure of the war years and consequently suffering from stringent government economies, (many of the post-war generations imagine that rationing of petrol, sweets, meat and other foodstuffs etc. ceased almost immediately the war ended. It definitely did not, and in fact went on until years later). Decent furniture was just one of the things not available. So our entrepreneurs quickly made their own inventory of the little-used, good-quality furnishings. One of their number then went off to contact some discreet furniture dealers and shortly afterwards a number of lorries arrived to load all those extra items, until the huts did in fact, exactly match the inventory. Presumably there was then a worthwhile share-out from the proceeds and I would hazard a guess that none of it went into the Band Fund! The whole business didn't come to light until long afterwards - and then only because one of their number boasted of it when 'under the influence'.
Another example of that entrepreneurial spirit, involved the camp postman, a Bandsman of long service. He looked after all the mail to and from the camp and as a consequence was always in and out of the small village Post Office and thus became friendly with the staff there. He was also something of a gambler and played both the horses and football pools - by mail. It soon occurred to him that he could easily use the Post Office's franking date stamp and change it so that his entries could be stamped to prove that they had been posted before the results were known. Initially he had enough sense to keep his winning claims reasonably modest, but eventually they began to add up and even in those 'pre-computer days', the pools company became suspicious and brought it to the attention of the Postal authorities. A Post Office Investigator was sent. As soon as he discovered that the winner was in fact the camp postman, he guessed exactly what had been happening - but couldn't prove it unless the culprit was caught in the act. Our postman got wind of what was happening just in time to extract his next claim - and thus escaped. However, a visit was made to the camp, words were spoken into someone's ear and another man was given the job of camp postman!
Many Band Officers were definite 'characters'. One such was a Lieutenant (later Captain) R.E.Compton, universally known as 'Doc'. Short, slightly rotund, earnest, sometimes bad-tempered, he could also be delightfully vague. He was a good conductor and if, as would often happen back in Howstrake, a number of the boys would, in their free time ask permission to set up an impromptu orchestra (for some reason always referred to as a 'squeegee' orchestra) his permission had to be obtained because he was in charge of the music library. He always eagerly offered to come along and conduct. He was an enthusiastic conductor and on one occasion, to the eternal delight of all present, during a spirited rendition of 'Amparito Roca' he stepped backwards off the low rostrum and ended up flat on his back amidst a roar of appreciative laughter. To his credit he got up smiling and started again!