The Band of HM Royal Marines
01 - English Folk Song Suite
02 - Alla marcia (from 'Karelia' Suite)
03 - Sursum corda
04 - Pomp and Circumstance March No.2
05 - Nimrod (from 'Enigma' Variations)
06 - Crown Imperial
The Orchestra of the Light Music Society
01 - Children's Overture
02 - Dusk
03 - The Haunted Ballroom
04 - Londonderry Air (arr. Grainger)
05 - The Watermill
06 - À la claire fontaine

Introduction

In response to demand the Royal Marines Historical Society decided to issue this CD of recording highlights from Sir Vivian's remarkable career, focusing in particular on what future historians will undoubtedly regard as his pinnacle years, the 1960's and 1970's. This CD is timely as it provides a fitting complement to the January 2000 publication of Derek Oakley's biography of Sir Vivian, Fiddler on the March, also a RMHS publication.
This is not the place to provide a résumé but unusually for a distinguished musician Sir Vivian's career embraced both the military band and classical orchestral worlds. At the age of 21 he became a founder member of the BBC Symphony orchestra, having cut his teeth as a violinist with Sir Henry Wood's Queen's Hall orchestra; and to the classical world he returned following his service in the Royal Marines. But it is as Principal Director of Music at Deal, 1953-68, that he is likely to be best remembered. Thus the first six tracks of this CD are designed to recall that period which culminated in the award of a Gold Disc for over 1 million records sold of Royal Marines band recordings under his direction.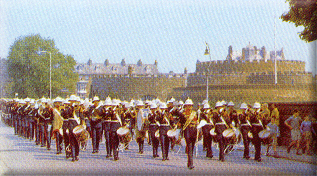 The selection on the CD spans the 1960's and is drawn from the albums "The art of the Military Band", "The Splendour of the March", and his final LP as Principal Director, "Music of Pomp and Circumstance", recorded in 1968 at Guildford Cathedral with the distinguished organist Barry Rose. In the sleeve notes of the latter album Sir Vivian wrote that it gave him particular pleasure that the whole of side one had been devoted to works by Sir Edward Elgar since it recalled his younger days in London when he had 'played under Elgar and knew greatness and beauty of his music and the genial, lovable benevolence of his character.' Reason enough to include three magnificent recordings of Elgar works in this CD.
Listeners to Classic FM will be fully familiar with Sir Vivian's ever popular recordings with the Light Music Society Orchestra. These were made in the early 1970's, a particular busy period which saw similar recordings with the Scottish National, City of Birmingham and Bournemouth Symphony orchestras. The accompanying sleeve notes with the CD provide the appropriate details about the six orchestral tracks which first appeared on the 'Grainger' and 'Festival of British Light Music' albums; but it is perhaps worth adding that these generally reflect special favourites, in particular the exquisite composition of his good friend Robert Farnon, À la claire fontaine, one of Sir Vivian's Desert Island Discs selections in 1970. Sir Vivian admired this work enormously and its inclusion here is a further tribute to a special friendship which began during the war when the two composers first met as serving Directors of Music; at that time Captain Farnon led the incomparable Canadian Band of the Allied Expeditionary Force.
Click HERE for order form.