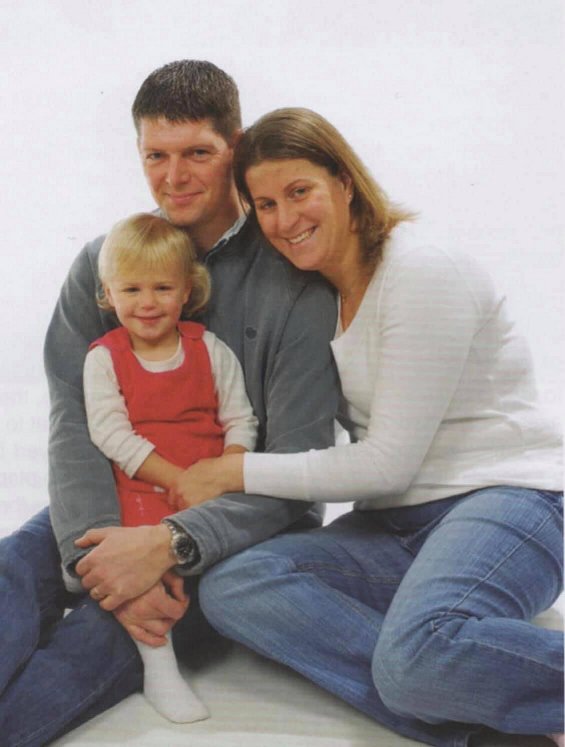 Andrew John Gaw Thomson was born in Gravesend Kent on Sunday 3rd March 1974, spending the first sixteen years of his life at Cliffe, a village just outside Rochester.
From an early age Andy decided that a career in uniform was for him, joining the 2nd Strood Company Boys Brigade In 1980. It was whilst a member of the Brigade that Andy began playing in the band, as well as playing the piano, he also began learning the trumpet, until changing to french horn aged fifteen, realising that there were more opportunities open for a horn player than a trumpet player.
It was during his time in the Boys Brigade that Andy developed his love of many sports, playing football for the company as well as proving a successful swimmer, winning many races in annual galas.
One other noteworthy aspect of Andy's character that was nurtured during his time in the brigade was his pride in his appearance. From an early age, Andy would be meticulous in his appearance, indeed chastising his father when he went to go out on an occasion without his tie!
At thirteen, Andy announced that he wished to join the Navy, which naturally led to a successful audition for the Royal Marines Band Service (RMBS), joining Training Company in 1990. Throughout his time at Deal, Andy proved to be a good all round recruit of Troop 2/90, passing out for adult service in 1993. It was also during this period that the RMBS began to recruit female musicians and Andy met his future wife Catherine, indeed both of them enduring the embarrassment of having shore leave revoked after being caught ignoring the 'No Touch' rule one particular evening!
Following training at the Royal Marines School of Music, Andy found himself undertaking the unfamiliar journey to the Royal Marines Band Britannia Royal Naval College Dartmouth where he cut his teeth on many a cold Devon morning on the parade, ending up playing first horn. He also developed a passion for rugby union, a surprise choice as it involved getting muddy and dirty; however, Andy joined Dartmouth RFC where he began his fledgling rugby career.
In 1999 he found himself moving up the Devon Expressway to the Royal Marines Band Commando Training Centre (CTC), under the direction of Captain Paul Weston. It was also in this year that Catherine and Andy married, choosing to set up the family home in Torpoint where Andy soon becoming an integral part of the community.
During this draft the band were deployed to the Mediterranean and Black Sea for a three-month tour of duty.. On 29th August 1999, CTC Band including Andy departed Devon on Exercise Argonaut onboard HMS Ocean.. The band flew home on 2nd December. It was on this deployment that Andy began to show his true colours as a future NCO, time and again making a serious contribution to the running of the band onboard. The only fly in the ointment came when Captain Weston was conducting rounds of the junior ranks Mess one evening. When asked if there was anything he could sort out to make the deployment more tolerable, the reply was "Could he sort out a new ironing board as Andy had worn the previous one out!"
It was during this draft that Andy was selected and successful at the Junior Command Course (B).. he was subsequently promoted to BCpl in 2003.
He eventually managed a draft to Royal Marines Band Plymouth and gave up the early mornings on the A38. Whilst in this draft, Andy developed his organisation skills by becoming the Band Librarian, but found a true niche in organising adventure training packages for the band, including many trips to the annual RN/RM Skiing Championships. On one such trip, his enthusiasm to sort out the accommodation ended with Andy leaving his ski boots on the bus while the other members of the trip settled into their chalet! He was also an accomplished diver, attending many expeds, including the RMBS trip to the Red Sea.
In 2005.. Andy and Cathy were blessed with the birth of their first child Holly. The following year saw Andy successful pass the Senior Command Course (B) and then in September of the same year he returned to RMSM to attend the M1's course which he subsequently passed. This had the knock-on effect of being selected for promotion in 2008, a promotion he was unable to pick up due to his illness.
It was during a follow-up to an operation four years ago that Andy needed a operation to remove some cancerous cells in his neck, which was carried out in November 2007. Unfortunately, this led to more operations before Andy was diagnosed with malignant melanoma. He underwent aggressive courses of both chemo and radiotherapy. Unfortunately this had little success and Andy was admitted to the Royal Devon and Exeter Hospital before being moved to St Luke's Hospice in Plymouth a week before his death on Wednesday July 23rd, aged 34.

Andy's funeral was held in St James's Church, Torpoint, on July 30th. The church was full to bursting testimony to Andy's popularity, not only from the colleagues and friends in the RMBS, but with many people representing Torpoint RFC and the Torpoint Mosquito Sailing Club (TMSC), Andy being an active member of both organisations. The wake was held at TMSC and all assembled felt that this was an appropriate place as Andy had spent many an enjoyable afternoon and evening there!

On October 24th, a memorial service was held at HMS Raleigh for the members of the band service who had been unable to attend the funeral due to commitments at the Edinburgh Tattoo. Andy's ashes being interred in Horson Cemetery, Torpoint, prior to the service. A brass ten-piece accompanied the service, including a beautiful rendition of Benedictus from Karl Jenkins's 'The Armed Man'. People were invited to speak about Andy includingrepresentatives from Torpoint RFC, the Boys Brigade and Major Paul Weston travelled from Canada to speak on behalf of the Royal Marines Band Service.

Andy Thomson lived his life and played it for to the full. Whether that was climbing Mont Blanc or playing his french horn, he did everything he could to the best of his ability and impeccably turned out. He will be forever missed by Catherine, his daughter Holly and his son Harry, who he never got to see. Everyone will have their own thoughts of Andy, but I think it is safe to say that all that knew him will agree that a great guy was taken from us all to early.
RIP Andy