I'll preface my thoughts here to say that I will ALWAYS enjoy this time, regardless, as it's all about daft old "bandies" getting together to reminisce over the good old days & enjoy a great night out.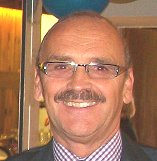 Firstly, thanks to the organisers who did what they could in their efforts to help make our evening enjoyable. (Now here comes my 'BUT'!) If no one agrees with me, then fine, it'll mean I've been over-picky & ungrateful. Sorry in advance. However, contrary to both Jem & Olly's well written articles on the Noticeboard, I can't help feeling that we were short-changed somewhat this year, - literally! - Sorry both, but if I'm on my own with my opinion then I'd be very surprised indeed. (Even the entrance fee was upped to 20 quid this year - which I didn't begrudge, until I discovered what we were (NOT) getting for that 34% increase!)

To continue, for as long as I remember, we have traditionally been greeted by the Rum Bosun with a tot of REAL Pussers Rum. (For those who imbibe, we all look forward to that, as it's the warmest greeting known to man. - Well Bandsman anyway!!) This time, we were met with a small plastic measure of Captain Morgan or the like, just inside the/our new downgraded meeting place, a very unwelcoming, draughty/chilly gym! - We're all aware that "cut backs" has recently become a UK 'buzz word', but come on, - did you have to start there?
I thought it was really disappointing to lose out on the comfort of the chief's mess to a ships reunion. (Was anyone aware of this, prior to our reunion?)
| | | |
| --- | --- | --- |
| 1 | 2 | 3 |
| 4 | 5 | 6 |
| 7 | 8 | 9 |
| 10 | 11 | 12 |
| 13 | 14 | 15 |
| 16 | | 18 |
| 19 | 20 | 21 |
| 22 | 23 | 24 |
| 25 | 26 | 27 |
| 28 | 29 | 30 |
Sadly, my oppo Dave Stockham & I had both brought our wives to the 'shindig' for the first time, - only because we'd told them just how much they'd enjoy it & particularly the band performance before the serious drinking commenced! - I know this isn't totally about wives & girlfriends etc; but, none the less, they paid for their tickets and felt let down. The evening for them, failed somewhat on all fronts. - (So much so, it'll just be old Dave & I again next year, - which will mean we'll drink twice as much as we should, with no controllers telling us otherwise!!) - But I'm convinced that had they come along in previous years, then they'd have gone home with entirely different opinions.

The plus side was the very efficient bar manned by serving bandies & the running buffet was fine. Thanks guys! Agree with both colleagues on that one. (Some guys said that they missed the usual Hot Curry, but that wasn't such a concern to us.) [Editor] On the contrary, I LOVE hot curry :)
What was a concern was the wide open high roofed gym' that proved cold, dark, draughty and uninviting for our ladies. It was also dangerous in the more dimly lit areas leading to & from the tiered seating area with ill fitting temporary chipboard flooring. (Elf 'n' Safety? What happened there then?) All made worse if the only place to sit was near the wide open doors due to the limited seating!

The band performance:
Whilst as good as any senior band - in my opinion, - was also very bulk standard beat retreat stuff. No surprises, no fanfare trumpets, nothing too risky this year. The 'bar' reached its peak last year & this year became another "cut back!" - I just felt somewhat cheated in a way, as I know that could have been a lot more impressive. I've witnessed the excellence - as we all have - year after year & always look forward to it. I just wish we hadn't oversold it to our wives prior that's all for although they enjoyed it to a degree, they weren't exactly blown away. (Maybe it was the missing Euph' that did it for them?) But in truth it almost seemed as if it had been deliberately downgraded from that 'bar' following all of the complaints thrown at NG earlier in the year for wanting to cram the whole reunion into one single day! But perhaps that's a bit too cynical?

I have to say that I nearly broke my neck trying to find my way back to the drinking area. It was hard to see in the dim lighting as it was, & I tripped as my foot caught the edge of the uneven temporary floor boards, - not good for anyone. (Just glad I didn't have a pint in my hand that's all. - What a waste that would have been!)
As always, the church service was second to none again. But if I have to be really picky, in my opinion, the orchestra wasn't exactly on a par with last years, due essentially to one or two string tuning issues that tended to make one wince occasionally! (I've not done that before!) But then, young Hannah Wheyway's brilliant Bruch Violin Concerto G Minor No 1. Op 26 more than compensated for that to be fair. The choir was spot on too & such a joy to listen to.
Having said all of this, I still wish that that I'd saved my money this year, as I enjoyed the next morning's get together at the RMA club just as much, - if not more so! I'm just curious to know what we were really getting for the extra fiver this year that's all. Or did I miss something? - Sometimes they say "less is more !"
I'll cease my "drip"/"whinge now". - Am I alone in my thinking?

Derek Usher
[Editor] I would wish to divulge to our readers that Derek was acutely reluctant to have his thoughts aired and the above text was (prior to my editing) sent to the guestbook which has to be approved by myself in order to deter inappropriate entries. I am confident that most of us applaud Derek's point of view as it is just that. Just criticism doesn't do anyone any harm and perhaps for those who are prepared to listen to his comments, bearing in mind that both Tony Oliver and Jem Tugwood have reiterated similar points of view, will think hard about how to rectify some of the more dissatisfying aspects of the alternate venue. On behalf of all our contributors, I respectfully suggest that should this recent event be a 'one off', then we would welcome the return to status quo for the 2012 reunion. I tend to agree with Derek, if one was introducing one's family for the first time and with the anticipation we all must have experienced over recent years, then this year was somewhat disappointing and unfortunate. I can emphatically say to Derek, that he'll NEVER be "alone".
Enough said!
Dickie Valentine