My dearest of friends & comrades,
To begin, how could one surpass the luscious manufacture of words that dear Derek Usher bestowed upon us last year? Whilst typically well chosen, one could hear the splendid tirade as if from his very person, in one's living room or study. Such is the lovely nature of the man. So I shall resort to a short and personal account.
For some months I was a little hesitant in being too assertive as to my attendance due to possible flight difficulties but my fears were unfounded. I will not bore you with my flights but I can say I was very fortunate to be treated in a class of service we would all wish on such a long haul.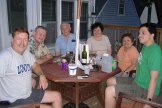 Click to see enlarged view
My vacation began with three superb nights in Chicago with friends. The weather was glorious with lovely sunny days and pleasant evenings on the deck with family and friends. Of course, this was but a mere introduction to what became a lovely, if not, arduous timetable of coming daily events. I made it through however, with much to place in the memory bank of joyful and loving experiences.
Upon my arrival in London, as is my routine I took the shuttle to the car rental facility to pick up my Vectra 1.8. Wow! I was impressed by the on-going technology that seems to increasingly improve performance with the ever higher cost of petroleum. We call it "gasoline" out here in the States. One found it difficult not to drive conveniently or in sync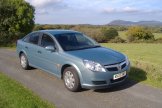 less than 80mph and indeed………..I found myself at the "ton" on occasion but thankfully not too often.
It's hard to contemplate after spending the hours that one does, not just on the plane but prior to boarding and the after effects through customs at the other side. Thereafter I had a drive of over 5hrs ahead of me and unusually for me, this time I just "winged" it as far as my plan of direction was concerned. I knew I needed to be headed to North Wales, so I eventually got onto the M42 and …….well let's cut to the quick, arrived in sunny Pwllheli with gorgeous views of Snowdonia and glorious lush green fields speckled with sheep and the tranquil sound of either cawing carrion crow or a crying seagull.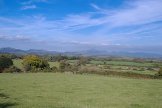 Click to see enlarged view
I think this is now becoming longer than short so forgive me, I love to write and I hope that you are going to have found this "personal" account of my inclusive and exclusive Band Service Reunion one of interest.
Since my journey began shortly after 9am on the 10th of October from Heathrow's perimeter, the weather was mild but very soggy and damp. Nothing changed for hours until after I had gotten into the Bala region of North Wales where in the distance, I could see the sun shining on the mountains. A nostalgic drive on winding narrow lanes in a barren yet beautiful landscape. Once past Porthmadog I was approaching the cadence of my long drive. It was after 2pm and as you can see by the photo (above-left) I had brought perfect weather with me.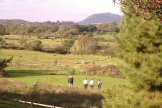 Click to see enlarged view
Knowing that my dear brother Bob was with his clients for the remainder of theafternoon, I took my small collection of luggage to my room and after refreshing, absorbed the beauty of my surroundings by choosing not to take a long wished for nap, but to literally imbibe the atmosphere. For many years, nay, decades I have been a welcomed visitor to this beautiful place which has transformed remarkably with the grit and devotion of a professional master of his art, (Bob Valentine) making what once was pastureland into a recreational facility that has been attributed accolades from gentry from all walks of life. Without bias, Robert Valentine [website click here] has become a revered master of the art of target shooting and his professional and personal touch are qualities that keep him a popular choice when considering tuition and entertainment of this very high caliber.
Not wishing to deviate too much from the ultimate content of this report, I will skip much of what occurred during my very full and relaxing three nights at Wern Newydd Farm. However, there is something of a very musical nature that is appropriate to share (with those of you who have not yet fallen asleep) trudging through this pastoral epic. In the superb and comfortable surroundings of the "Lodge", whereupon there are countless prints, water colors and object da pertaining to the countryman's sport and the outdoors in general, besides which is an immaculate reconditioned "Broadwood" Grand Piano on loan courtesy of another talented cousin in my family, one Maurice Peck of Preston.

Click to see enlarged view
One particular evening after dinner, I was being entertained in this splendid room sitting next to a wood burning stove in an ingle nook fireplace that was as wide as the room we were sitting in. Asked by my dear brother to play the instrument, I approached the keyboard and was there for an extended period, accepting his and his families requests for old favorites. I must compose myself as I write further as the tears well up in reflection of that happy, yet nostalgic time playing music that has been dear to our ears and our hearts for over a half century. My brother was in his element and his happiness of hearing me play again was hard for him to hide.
Music truly IS the food of love!
You can see a tear in his eye and I'm not ashamed to say so. Brotherly love at 50+ is hard to explain when you have lived apart for over 15 years and in separate countries.
My time with them, not forgetting the opportunity to meet with my two nieces was a happy moment in my life. We all had dinner together on the Friday evening before my next and even longer drive from the nether reaches of the Llyn Peninsular to Portsmouth.
Farewells all done, I began the drive to Portsmouth after a full Welsh breakfast that would have sufficed for several days. There are some things in life that just have to be savored no matter the advice of nutritionists and dieticians.
I made it to HMS Nelson after over 6hrs on the road and seeing as our beloved Three Crowns had succumbed to the developers, I found myself with old friends at one of several watering holes just outside the dockyard gates. The name escapes me for now, but a pleasant atmosphere and of course, the lads were watching some "footy" with England playing Croatia I think.....?

Tommy Lawton
That evening needs no further endorsement, yet there has to be made mention of severalimportant aspects of it. Not the very least the heavy applause when Chris Davies (PDM) paid tribute to Tommy Lawton and his team for what was his last reunion as organiser. Without question, we all thank you from the bottom of our hearts for the very hard work that you have put in for us over the years Tommy.
Another very touching moment was when Chris declared that on the very day we were all together enjoying treasured memories, our dear beloved Sid Sheard was celebrating his birthday. A man with a huge heart and incredible warmth of spirit reveling in yet again a memorable weekend with kindred kin.
Sadly, some of my photographs that I dearly wanted to share were not adequate for publishing here due to operator error. I must mention that after over 40 yrs I had not seen the likes of "Ollie" Holloway who was in my 4/65 squad along with Ray Lloyd, and Andy Cunningham. The names mentioned all present this year. Another amazing surprise was the return of Phil Stevens who is seen on the photo album several times. A great wit, nice man and a pleasure to share such a time with after too long and absence. Of course there many others and I want to express our privilege to have shared the company of those who are so physically challenged at this time in their lives. Dave Aves and Richard Wright ably assisted by family and friends, giving us all the opportunity to share with them the great camaraderie that is so unique. It would be unfair of me not to mention those who are also in the Sick Quarters who would have otherwise wished to have attended. I know that Barry Radford, Jim Kay, and others were intending to visit, but stricken at the last minute with deteriorating health forbade them and it was our loss.
What a glorious Sunday morning! A service at the cathedral that was up to its usual and fulfilling standard. Great music, choral and orchestral lifting the spirit and the reminder of those who perished in wartime and other campaigns touched many of us, if not all. The rest is pretty much history.
The rest of the afternoon spent yet again sharing incredible memories and invaluable time with old friends at the RMA and our thanks as ever to the Callow's for their welcome. I'm sure you have seen the lovely photo of a group at the back of the club which depicts the hiatus of a weekend we, many of us, devour with avid enthusiasm. Long may it continue.
One can only remain ever grateful for being a member of a family unlike any other.
For those who failed either by trepidation or otherwise to attend, please know you will only be welcomed with open arms and the very idea of being in the same room for a fraction of time will make a huge difference to many of us. Needless to say, you will be enriched.
The End.